Flying during the pandemic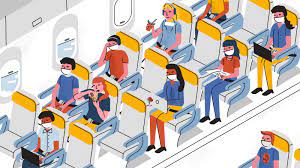 Flights during the pandemic are different than before. People were advised to stay home so they don't further spread or catch the virus. Despite urging from the Centers for Disease Control to avoid travel during the pandemic, 45% of people have taken trips since March.  The Mayo Clinic says that you should protect yourself and your family by vaccinating them before travels and staying 6 feet apart from others.
According to CNBC, "Travel increases your chances of spreading or getting Covid-19, which is why the CDC recommends delaying travel at this time. It's difficult to maintain social distance in airports and other travel hubs as well as on-board an airplane, train or bus." Which means that instead of traveling and increasing your chances of getting Covid-19, you should stay at home and delay your travel.
My aunt recently traveled to Colorado and said. "The airport was sort of empty.¨ My mother will travel soon so I asked her how she felt about traveling during the pandemic and she said, ¨I'm nervous of going to the airport because it might be crowded.¨ My grandma also went to Colorado with my aunt and she said that, "Around 40-50 percent of the plane was full.¨