¨If I close my eyes, I can still see my first soccer ball. ¨ – Pele, September 2013
How did Pele kick his way into the leagues?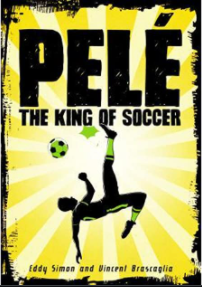 A book that I have read is Pele: The King of Soccer. This book is about how Pele was able to start his career in soccer. Pele wasn't fortunate enough to have a real soccer ball to play with. In his hometown of Tres Coracoes, State of Minas Gerais, Brazil, he played with the neighborhood kids with a ball made of rags. Soon him and a few of his neighborhood friends started to make a team to play in a little league of soccer. They wanted to play like the pros with a uniform shirt and shorts. They didn't have any money so they decided to roast peanuts. They stole peanuts in hope that they wouldn't get caught. They sold them in front of a movie theater to get money to afford the uniforms that they wanted. They wanted to be like their favorite team to listen to ( they would listen on the radio since they didn't have a TV). Brazil was in the World Cup in 1950. They listened to the World Cup and celebrated after every goal and every win. 
Pele would start to get better and better at soccer. He was so good that a pro team asked him if he wanted to train with them to see if he was good enough to enter the big leagues. That team would later turn into the foundation of his whole soccer career. With Santos he was able to leave his hometown and move to Sao Paulo, 250 miles away from his hometown to pursue his dream of playing in the big leagues of Brazil. He moved so far away at only the age of 15! When he got to the Santos facility he was there for a trial period to check if he was ready to play in the big leagues. When his trial finished they were happy to give him a contract for him to play with Santos F.C.
Pele would play his first pro game with the Santos uniform in 1956. He only played in the second half where he would score his first pro goal. Pele would continue to play backup and not as a starter. The starter for Santos was Vasco Vasconcelos, who had gotten injured and gave his jersey number 10 to Pele. Pele would play when his father would tell him that his name was announced to play with the national team of Brazil in the World Cup. Pele was going to be in the 1958 World Cup in Sweden!  Before he went over to Sweden he had a game with the Corinthians, a rival team. He had gotten hit badly by another player. He fell down and his knee was broken. His father had also broken his knee when he played soccer. Pele was still able to go on the trip but he wouldn't be able to play until the third game. Pele would play his very best to win every game to continue. He would play in the World Cup finals vs Sweden. He would win for his country and his father, who was devastated when Brazil lost the 1950 World Cup. 
Pele would play for Brazil's national team and Santos. Pele would sometimes sneak out of the Santos dorms with his teammates. One time he sneaked out to go see the Santos women's basketball team, where he met his future wife, Rosemeri dos Reis Cholbi. She would have three children with Pele. 
Pele would later leave the national team of Brazil and would start thinking of retiring. He would think that his final game would be in 1974 as a Santo. Later he would sign a contract with the New York Cosmos to play in The United States of America. He would play with them for some time. Pele would decide to play his final pro game with the New York Cosmos.
Leave a Comment