Future sixth graders
Hang on for a minute...we're trying to find some more stories you might like.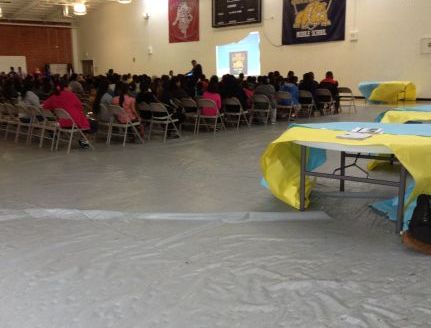 On Thursday, April 22 Animo Jefferson Middle School held a sixth grade parent meeting for the new up coming six graders.
This meeting informed parents about how our school runs and what they should expect like the merit/demerit system and other things there are.This meeting also informed students the expectations and just other general information for example uniform requirements.
The future sixth graders liked different things about our school, Jakelyn Zoquitecatl said, "I like the gym because it is big." There are different things to like about our school and the gym is one of them that one of these students liked.
Parents seem to find a school for their child many different ways, Nancy Benitez, a parent of a future sixth grader said, " I chose this school for my daughter because a friend referred me to it."
Parents, don't just look how safe the community is but also things inside the school. Nancy Benitez, also said, " I like how the teachers teach and I like how this school prepares their students for college."
This meeting also had presentations of each of our sports teams. It spoke about the soccer team, about the SRLA team, and about our cheer team. The administrators explained to them the requirements on how to be involved in the teams, how they can sign up for them, and also a little bit about on who runs them and who they can speak to about them .
This meeting gave the parents a better view and opinion about the school and as well the upcoming sixth graders.

Cesar Ruiz, staff writer
My mission as a journalist for the Bulldog Bugle is to make the sports section as strong as possible so when viewers read the stories, they will get as...
Xochitl Pineda, staff writer
My mission as a journalist for the Bulldog Bugle is to report and write stories that have impact, proximity, and rarity, and will write stories that will...