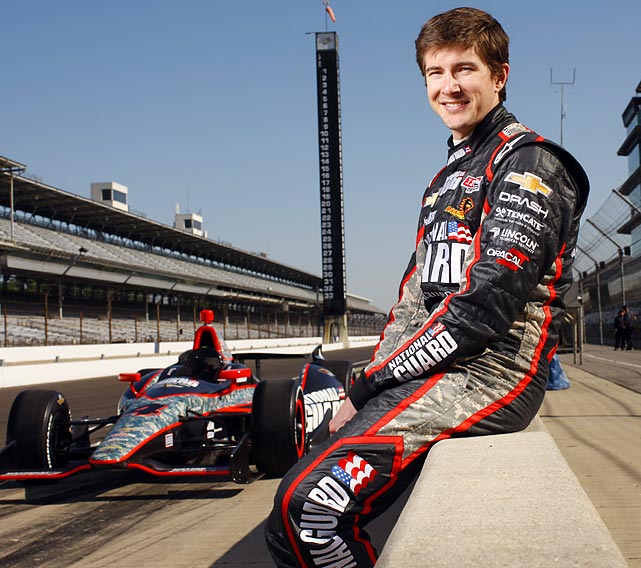 Does school sometimes seem boring in classes with teachers droning on and on? Well, there's one class that makes an exception. Famous IndyCar driver J. R. Hildebrand is working with Green Dot to make science and math fun for kids by bringing in motorsports into the action.
It all started about a year and a half ago at Animo Locke High school with one teacher and Math Curriculum Specialist, Steve Sharmokh. "She [the teacher] had about 25 kids in each class and had 5 classes so we started off with 125 students in the program. Then it soon advanced to three teachers at Locke and all their students and one teacher and his students at Inglewood High school." Sharmokh said.
Science Curriculum Specialist Rebecca Taber said, "The students who participated in the program had good feedback and enjoyed seeing the connection between motorsports and physics. Hildebrand had even come to visit the class as well."
Now some people may be wondering, "How did someone like Hildebrand and Green Dot get into contact with each other?"  The answer is simple. Hildebrand connected with Green Dot. According to Sharmokh, Hildebrand was in contact with someone in the development department and they went to the curriculum specialists. They soon developed the program with Hildebrand.
Taber has a similar claim. "Hildebrand contacted Green Dot and asked to be put in touch with the school where he could work with a teacher to create a motorsports- based physics lesson." Hence the program starting in Locke.
According to Taber, "The first lesson in 2013-2014 was about thermodynamics, and the way it was incorporated into the class was a lesson about racing fuel." The students had to conclude which type of fuel was best for Hildebrand to use in his next race.
"They learned about thermodynamics and fuel efficiency and they conducted a lab experiment where they tested three different types of racing fuel in order to make the recommendation. The second lesson which, in the fall of 2014, was a lesson that involved drag and air resistance as it flows over the car." The lesson was to design a rear spoiler, a little wing in the back of the race car which is designed to let the air flow over the car without slowing it down.
"J.R. Hildebrand was able to bring in mini wind tunnels to test them out with the students." The lesson that is currently under construction is going to take place in Inglewood High school, not at Locke, in probably May. It's going to be about air resistance and coefficient of friction and will probably involve the wind tunnels they used in the fall. But it's for a different type of engineering problem." Taber says.
Many people may expect that Rebecca Taber and Steve Sharmokh work with Hildebrand all the time, given their roles in the program, but that's not always the case.
Sharmokh does work with Hildebrand directly and describes him as an easy-going guy. "Hildebrand enjoys math, science, and working with the students. He even came to a classroom in Locke and walked around helping the students. He loves feedback and communicates with the students well." Sharmokh and Hildebrand communicate through phone calls and email and have met in person about three times.
Taber has not worked with him as much directly but she has meetings with him and the teachers in the program.
Michael Segal, a science teacher at Inglewood High School, also does not directly prepare with Hildebrand in person but does speak over with him over with the phone.
J. R. Hildebrand, who finished 8th in this year's Indianapolis 500, started his program in Animo Locke High about which he says, "It is an interesting school in the perspective that it operates more like a public school. Kind of an interesting place to try and get in and make changes or to introduce something new. So there was something that was sort of a challenge on that, that a lot of us that were involved initially in the program was rather appealing…"
Students, most of whom struggle with math and/or science, report that they enjoy program, although it's too soon for data to show if this has resulted in improvements in student achievement.
There is a chance that the program may be able to expand further with more schools, more equipment, and more students.
Hildebrand says he has seen an increase in engagement with math and science with these same students, which was his initial goal.
"It doesn't take a lot to recognize that what we're trying to do, which is not only to give students an answer but also teachers an ability to answer the question of 'What is this good for?'" he says. "We're trying to bring back that recognition of the importance of math and science that kids learn in school."
And with a bit of time and luck, this is one goal that can be reached.
So the next time you complain about not needing math or science in real life, you might want to take a look into this program and see how wrong you really are.