Students thoughts on Toy"R"Us closing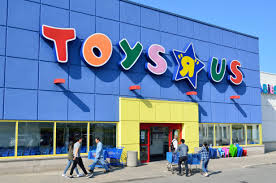 Hang on for a minute...we're trying to find some more stories you might like.
Toys''R"us was a really well respected company that sold toys, but it has come to the point where it is now closing about 200 stores and some which are near you.
The reason why is because of the customers are buying online rather than in stores. It was at one point the number one place to buy toys, but now it got outdated and no longer gets its customers as it used to.  
Companies like Walmart, Target, and Amazon have stepped their game up, and with Toy"R"us closing their stores have gotten an advantage because Toys"R"Us has been struggling to get customers over the years.
Pedro Vargas, eighth grader at Animo Jefferson, said, "I think it's great that they are closing down, and people don't buy from there anymore." Pedro hasn't heard of the Toys"'R"us issue because he doesn't  go to the stores at all and would instead go to Walmart. 
Cesar Vega, seventh grader at Animo Jefferson said, "I think it sucks because I [used] to buy toys there." Cesar thinks that Toys"R"Us should keep selling their products online. Cesar also said that Toys"R"Us was a pretty cool place to buy toys, but he has stopped buying toys years ago because he grew out of toys.
Alejandro Martinez, eighth grader at Animo Jefferson said, "I liked Toys"R"Us when I was a kid because I was into toy cars, but now I'm not really into them." Alejandro hasn't heard of the Toys"R"Us issue because he has forgotten about the company. "I think it's better for them to close the stores and to keep the company's websites, so that they could come up with new ideas for products like technology rather than toys." Alejandro said that kids aren't really into toys, but video games. Alejandro gave an example, Fortnite, because a lot of kids play the game and waste money on virtual items.
Toy"R"Us was a really big company back then, but now people don't buy their toys from there anymore like before. They have been struggling for quite some time, and had to survive bankruptcy.