History of Animo Jefferson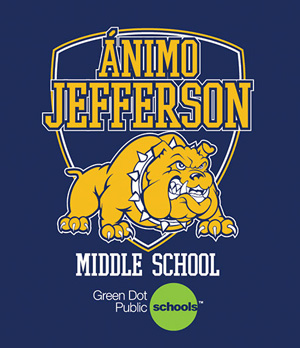 Have you ever wondered about Animo Jefferson's past and what it was like long before you attended the school?  From interviewing investigations teacher Carl Finer, I learned that the school opened in 2010. When it opened it wasn't a sixth, seventh and eighth grade school. When the school first opened, it taught only sixth graders. Then the school added a grade each year until the school was full. 
A fun fact that you probably didn't know is that before Animo Jefferson opened, there was another school in the same location called Animo Justice High School. Animo Justice was shut down, so Green Dot put Animo Jefferson in its place. Animo Ralph Bunche was a high school that had been there before Animo Jefferson opened.  Both Mr. Flota and Ms. Ramos worked at Animo Justice before Animo Jefferson.
The school has changed a lot over the years.  For example, the school used to have a merit and demerit system and students used to wear lanyards with merit and demerit cards in them,  but now the school uses Liveschool. Mr. Finer also told me Mr. Carbajal started as a history teacher and then became an assistant principal.  Math teacher Mr. Lo and special education teacher Ms. Iglesias have also been at the school since it opened in 2010.  
Another of my sources was the school website. The Green Dot article I read was about why they opened the school. Green Dot wanted eighth graders to successfully go to high school and get them ready for college.
Animo Jefferson is that it is not a LAUSD school but its a public charter school run by of Green Dot. Green Dot was founded in 1999 and they opened high schools because almost 50 % of students in the neighborhood were not graduating. When Green Dot first started it just opened to ninth graders and only taught 140 students. Now there is around 14,000 thousand students in Green Dot schools in through Los Angeles, Texas and Memphis, Tennessee.