"I was a single mother raising two kids."
Eliadad Flores was a single mother struggling with two kids by herself.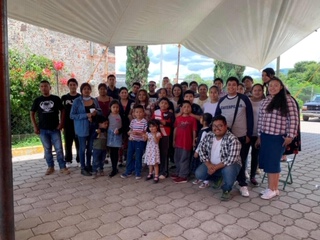 When Eliadad Flores, my mom, came to the US, she met my dad and and after a while of dating she had my sister.  Then, two years later she had me.  My mom and my dad started to have multiple arguments. She ended up leaving him and she  struggled to maintain both me and my sister.
TRANSCRIPT:
My name is Genesis Guadarrama I am 13 years old  today is September 17 2020 and I am here with my mother her name is Eliadid Flores she only speaks Spanish.
GG: First question can you please tell me a person who is very important in your life?
EF: ummm I think it would have to be my mom because even though I did something bad she would always be there for me
GG: Second question  can you please tell me two moments in your life that you happy about?
EF: I think the two special moments in my life were when you and your sister were born I feel like.
GG: What are you great full for?
EF: Who am I great full for ? Well it would have to be  my mom and my step dad my mom because she has always been there for me and my step dad for being like a dad to me and for be Grandfather to you and your sister.
GG: What is you favorite memory of me?
EF: when I was teaching you and your sister how to ride a bike and you told me no I can do it by myself and in half a day you learned how to ride a bike with no training wheels.
GG: how would you like to be remembered?
EF: I would like to be remembered as a great person because I like to help people and it would feel nice to hear that.
GG: what was your most difficult moments in your life?
EF:I feel like the most difficult moments in my life were when I separated from your dad because I did not have enough money back then.
GG: back then was it difficult for you  to buys us clothes or food to eat ?
EF: yes I had to work to jobs at once and you know like us parents what to make sure or kids have everything they want.
GG: who was your life before me and my sister were born?
EL: It was good because you know I didn't have kids and I didn't have to  be responsible but once you guys were born I got responsible.
GG: do you remember any songs you use to sing back then?
EL: The only one I have in mind was the song that I use to sing to your sister when I was walking with her.
GG: witch family members do you miss the most?
EL : I miss your uncle and his son as you know they recently passed away  its been very difficult for us but, and we miss them.
GG: can you describe them?
EL your uncle will be missed for being a nice person and always making sure to help others and your cousin as well as your uncle he would always help people and he only had a smile on his face and if I had the opportunity to go back in time I would give them a hug and tell them that I love them and you will always be missed and we will never forget you.
This has been my short interview with me mom and I am glad I was able to do this with her.