How child detention centers really treat children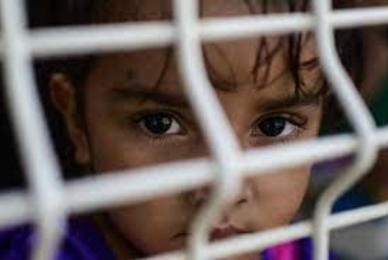 Child detention centers are where individuals are held who are suspected of visa violations, illegal entry, or unauthorized arrival. As well as those facing deportation and removal, they are held in immigration detention until immigration authorities decide whether to grant them a visa and release them into the community or repatriate them to their country of origin.
There is a lot that is not talked about when it comes to child detention centers, such as their likelihood to cause children to have suicidal thoughts, cause children to have mental health disorders or depression, and staff purposely terrifying them by saying things like "You are never getting out of here" or "Something bad will happen to you."
In an NPR article called "Lengthy Detention Of Migrant Children May Create Lasting Trauma, Say Researchers" it states, "'the guards sometimes, "intentionally or inadvertently frighten children, say[ing] things to them like 'Well we're going to deport you,' or, 'You're going to be deported,' or, 'You'll never leave this place or something's going to happen to you."  Research shows that chronic stress and adversity affects the development of kids' brains.'" Children need their parents for comfort and since their parents aren't there, guards see that as an opportunity to terrify these tiny humans. They cause these children to have PTSD and even mental health disorders. These longtime effects damage how they see their world and how they react to problems.
The difference between how child detention centers used to treat people is a drastic change. By January 2017, at the end of President Obama's term, detention numbers were at a record high of over 40,000 per day and the Obama administration had deported over 3 million people, more than all presidents since 1890 combined. This shows us that not only are our presidents not doing anything to improve their border protocol but they are allowing children to walk out of there with permanent emotional problems, suicidal thoughts, mental health disorders, and PTSD.
View Comments (8)