How music production works
What is it? What does it take?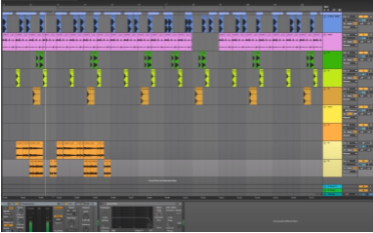 Are you someone who likes to listen to music? When listening to a song we may only pay attention to the lyric or the beat. Maybe your favorite artists have recognition for the flow of their songs or for the impact of their lyrics. Well, what if I told you that it takes a lot more than just recording the lyrics or making the beats to a song. The making of a song is called music production. Music production is the process of developing, making, and creating music for the entertainment of a public audience. 
Well, have you ever thought about making/creating music yourself? Maybe you're a song writer and desire to be a music producer in the future. Just to help you out, here are the steps of making a song. First, brainstorming, This means coming up with ideas for what the song will be about, the instruments you'll use, the parts that will be recorded, who will record certain parts, and the lyrics. All of this is basic planning.  
Secondly is recording demonstrations, or demos.  Recording demonstrations can be for producers to use as a guide. These demonstrations can be helpful with seeing what the song can become or how to make it into something better. 
The third step in producing a song is rehearsing, practicing and starting to record the song. Rehearsing the song is important. It helps everyone in a project to know what they are doing and how they will be contributing (if the project includes more than one person).
Now, these are only a few steps into making a song. If you wish to know all the steps in making a song, you can visit online.berklee.edu for more information. 
Now, what if you want to become a music producer? How can you become a music producer? 
Well, according to Indeed Career Guide, the first thing that is recommended to do is, "Train your ears." Try to listen to different genres of music, listening to different artists to see what instruments, sounds, beats ect, they use. Secondly, learn an instrument. Learning an instrument like the drums, guitar, or piano can be helpful in future recordings. Even if you don't play them professionally, it can help spark creative sounds while developing ideas. This way you won't have to wait for a session musician while on recording sessions! 
Also, get a digital audio workstation. A DAW  is basically a help to familiarize with the software used to record .This means, getting a recording software, like Pro Tools, Apple GarageBand, Splice, and so many more out there. For example, Splice is a royalty-free app that gives free beats and a lot of samples and sounds  artists, labels, and sound designers have used. 
This is an example of what a DAW system would look like. 
It's also important to  have a production and recording space to record and work in. Having the necessary equipment, a computer with DAW, soundboard, microphones, in a quiet workplace can help ensure you are able to make your music production as best as possible and in the best quality. With time, you can improve your workspace. Your workspace can be so simple, it can be in your room, with the necessary equipment and enough acoustic foam to make your room quiet enough. 
These are only a few of the many steps in making a song, and only a bit of information about music production. Now that you know this information, when you hear a song on the radio that you really like, you'll know what it took to make that song… and might even be inspired to create your own music.
View Comments (3)