What was Kobe Bryant's best NBA season?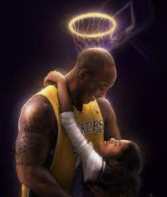 Have you ever wondered what Kobe's greatest season was? Well, he has had many great seasons.
Let us start off with who Kobe Bryant was. Kobe Bryant was a professional basketball player, born on August 23, 1978. He played for the Lakers for 20 years and won five NBA championships. He led the NBA in scoring in the 2005–06 and 2006–07 seasons. On January 22, 2006, he scored a career-high with 81 points, which was the second most points scored in a single game in league history.  Bryant was the first guard in NBA history to play 20 seasons. His 18 All-Star nominations are the second most all-time. Kobe also appeared in shows and movies such as Kobe Up Close, The Last Dance, and more.
Why did Kobe Bryant start to play basketball? Kobe 'Bean' Bryant was born on August 23, 1978, in Philadelphia, Pennsylvania. His father was Joe Bryant, a former Philadelphia 76ers player. He was pushed by his father from an early age to take up basketball. He started playing basketball at the age of three and his favorite team was the Lakers.
Did the legendary Black Mamba have an idol? A huge idol for Kobe was the G.O.A.T. Michael Jordan. Kobe looked up to Jordan a lot and when he needed someone to call to help him with his game he would always go to MJ for help, they had built a good friendship and were pretty close.
Enough with facts let's get to the main question, what was Kobe's greatest season? According to Bleacher Report, they found that Kobe has had many great seasons in his career, like in his MVP season where he averaged 28.3 points per game in 2007. I believe his best season was his 2005-06 season where he averaged the most points in his career 35.4 points per game. That Kobe was really legendary and it established him as one of the greatest of all time.
Did Kobe tragically pass away? Bryant sadly passed away on January 26, 2020, Kobe passed away along with his daughter Gianna Bryant and seven others in a helicopter crash. He was 41 at the time and had many more things in his life still to do. Gianna Bryant was 13 at the time. She had a lot to live for. May Kobe and Gianna Bryant as well as the seven others rest in paradise.
Leave a Comment