Why is there a new room in the first hallway?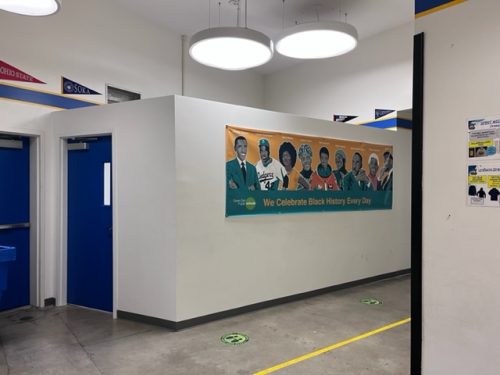 When we returned from a three day weekend on February 21, there was a new room created in the first hallway. 
Having an additional room was an idea that the school had wanted for years. It's going to be used for meetings, as a testing area for the students, and for when someone needs private space.
Office Manager, Leddys Ramos, said, "It was an idea that had been in the works for about seven years and the reason was that we, you know, that we don't have a lot of space, and a lot of times we have meetings and or people that come and need a space to work or you know we need to have a group working somewhere and we don't have we don't have any place to put them or sometimes even you know like for the psychologists doing testing for the students, she can't do that because there's no space or there's too many people in the same office. So we have been wanting to do that for a long time and they [Green Dot supervisors] finally approved us to do it. We're putting a white board in there. Six chairs. Conference table. A small conference table so it can be used for a meeting, could be used for testing an individual [or a few] students. It could be used for somebody having a need for a private space and to provide more services for the students."
Eighth grade student Daniela Sofia Nava thought that the room in the first hallway is going to be for students to put on their skateboards. She also thought it was going to be a storage room to put the cart of skateboards and the colorful cart of paper.
Nava said, "I think it's going to be… I don't know. Somewhere to put your skateboard and thingy's like before." 
Eighth grade teacher Angelina Brede thought that it was going to be a room for storage or a room where teachers have important meetings or an isolation area or for students who are not behaving well to do their work.
Brede said, "I think it's either a room for storage or.. Like 'cause that's where all the skateboards used to be so I feel like it could be for a storage room, or it could be a room where they hold important meetings, or it can be the new isolation area, or like students who are having behavior issues like do their work in there."
View Comments (1)