Encanto has a deeper message
Encanto was released on Thanksgiving and soon became very popular. With the soundtracks and the characters catching the many eyes of viewers, it soon hit almost 1.5 billion total minutes of viewing. It recently won the following awards: Golden Globe award for the best-animated feature film, NAACP Image Award for outstanding animated motion picture, and best for original song for "Dos Oruguitas." 
BuzzFeed quotes Miranda saying why he chose this song as the award submission instead of "We Don't Talk About Bruno." 
"I'm still proud of 'Dos Oruguitas' as the submission," Lin-Manuel Miranda, the composer of the many songs included in Encanto. "When those are the parameters, you have to pick the thing that best exemplifies the spirit of the movie, and it contains all of it inside this song – as opposed to a journey of a particular character. It's the foundational story, but I'm not going to say it wasn't hard [to choose]," Miranda says. 
Now, this leads to questions about the actual message behind Encanto. 
What is the movie telling the viewers? Miranda mentions how the song ( "Dos Oruguitas" ) expresses the full meaning of the movie. What is this meaning?
At the beginning of the movie, we are introduced to Abuela Alma with her husband, Pedro, and her three children. They were escaping their village from the violence caused by the Colombian Civil War. Unfortunately, Pedro was killed by the soldiers for protecting Alma. Afterward, she received a candle that became magical, leading to receiving an enchanted house, and her family members received supernatural abilities, which shows that she is in charge of all the magic since she is the founder. If you're wondering how the candle came to be, I am not the one to ask; it was never explained.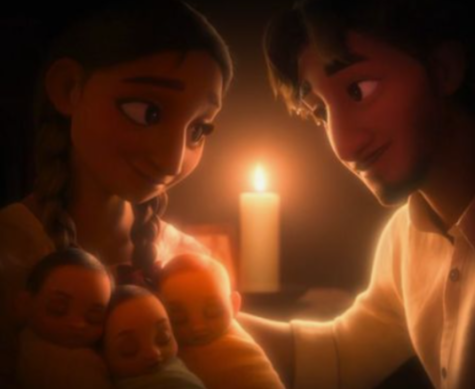 This is the beginning of what's called 'intergenerational trauma.' As a young woman, she had no choice but to flee from home with her family and witness her husband get murdered. This harsh event can affect everyone if it was to happen (intergenerational trauma can be caused by domestic violence, sexual harassment, and other hate crimes ). This affected Abuela Alma badly which led to her passing the emotional fallout on the future generation. Her children with the special gifts were going to encounter burdens that they had to try to overcome. 
Intergenerational trauma, also referred to as generational and transgenerational trauma, is seen in this movie by how Abuela doesn't notice that she is putting pressure on her children to meet her expectations. She makes sure everything is maintained to protect her loved ones from the horrors she endured. This means that every action she takes, though controlling and manipulative, is carried out of love and fear.
As well for me, this was not noticeable, until Isabella Madrigal was more deeply introduced in the song "What Else Can I do?" 
At first sight, she seems to be one of the perfect characters; the favorite, selfless, someone people can find annoying due to her seemingly flawless life. However, she reveals why she is acting like a person without problems and shows why she has hostility with her sister, Mirabel.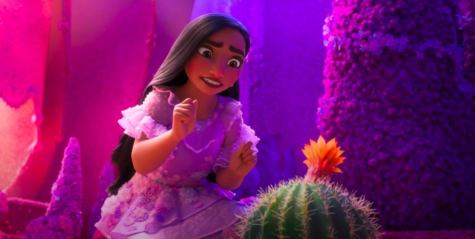 "Surface Pressure" was another character's theme song that took me a while to understand the meaning of. Luisa Madrigal is a character who resembles a strong character and she's always helpful for the town. She is a character with no problems herself and helps people with their problems. She never seems to have the time to take a break and shows no drawbacks with it.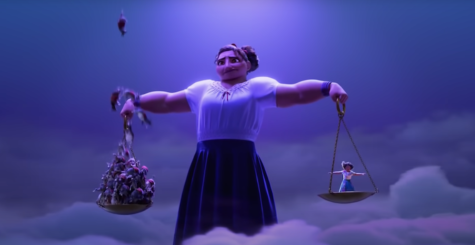 This music video shows no difference from Isabella's. Luisa is also trying to live up to Alma's expectations. Because Luisa is the reliable older sister she has to be, she is asked to carry the weight of her family and not complain about it. This pressure stresses her out; this is vivid to see in her lyrics…
"Under the surface, I feel berserk as a tightrope walker in a three-ring circus / Was Hercules ever like 'Yo, I don't wanna fight Cerberus? ' / I'm pretty sure I'm worthless if I can't be of service." 
Later, she starts crying nonstop, which results in her not being able to use her strength anymore. She concerns herself with being a disappointment.
Maribel, with problems of her own pressure, is the only one that notices that the candle begins to have cracks surrounding it. She takes this as a chance to try to make up for her powerlessness and save it while still experiencing the disapproval from her Abuela.
I genuinely enjoyed the film and it's enjoyable for people of different ages. Although there can be people who dislike it. I interviewed two people to see if they had an unpopular opinion on the movie…
 "Yes, I like Encanto.  The details they add in the movie is very likable. They also represent the family problems some families have with each other and how they can overcome them; or at least try. I learned people aren't always perfect no matter how much they try to show it. It teaches viewers to always try to be themselves and speak their minds. It also means to not have high expectations of everyone." -Araceli Ramos, a fellow peer.

 "Yes, I like it. Although, it did take me a while to finish the movie. I found it boring at first since it could have been another ordinary Disney fantasy film. I love Disney, but it's aimed towards children, you know? Once I watched it with my sons, I began noticing how cool it was. The songs, the way they animated; it was appealing. I learned that family comes first and always sticks together, but in a more special way based on how the movie is representing it." -Maria Garcia, my sister.
In conclusion, this movie was great and tons of people would agree with that statement such as my friends. This film fairly expresses the message of pressure that comes from living up to impossible expectations, yet every member is still valuable. 
This may be simple, but it still continues to be powerful because everyone is worthy of love for who they are, not for what they do.
Many people can relate to Mirabel because maybe they have been left out by their family. Or possibly they can feel the same vibes with other members of the Madrigals. This story really dives into questions such as: What makes a family?  Who belongs in what role? How can familial approval be something that both heals and hurts? 
View Comments (1)