Gunfighters of the Old West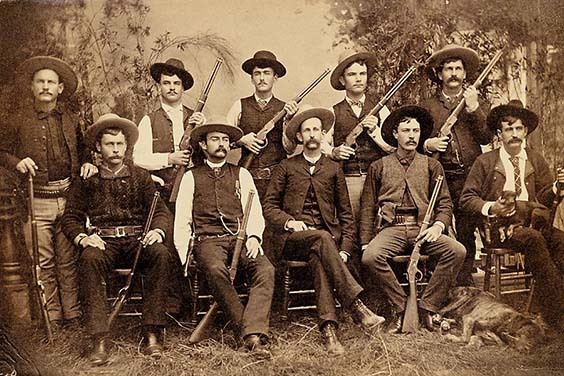 The Old West is marked as a time of lawlessness and violence. There were many robberies and murders. The amount of people who carried guns were common, they were mainly used for hunting for food or protection. Gunfighters were people who carried guns and participated in gunfights. There are three prominent gunfighters who should be remembered:
According to PBS.org, Henry McCarty was born November 23, 1859. He was an orphan who committed small-time crimes. He was jailed a few times but escaped. After a failed robbery on a laundry, he escaped to the Arizona territory and changed his name to William H. Bonney and then adopted the infamous nickname, Billy the Kid. Billy claimed to have killed 21 men but he actually killed nine men before his death. Billy the Kid died at the age of 21 when Pat Garret shot him in the chest.
Jesse James, who was born on September 5 1847, was another famous outlaw who robbed banks and trains, according to Britannica. He was one of the leaders of the James-Younger gang, which committed many robberies and crimes. The gang decided to rob the

First National Bank of Northfield in Minnesota, but the robbery went wrong and only Jesse and Frank James survived. Then on April 3rd 1882, Jesse was betrayed by Robert Ford and was shot in the head twice while his back was turned.
James Butler Hickok, or Wild Bill Hickok, was born on May 28, 1837. According to All That's Interesting, he grew up on a farm and then fled as a fugitive to the Kansas territory. Hickok served in the Civil War for a couple of years before becoming a lawman. In 1865 he had a gambling altercation with Davis Tutt and it ended in a quick draw duel. They both drew their guns. Davis' shot missed Hickok but Hickok's shot hit Davis straight in the heart. Hickok was arrested and put on trial but luckily he was cleared. Hickok was in many more shootouts as a lawman until August 2, 1876. Hickok was playing poker when Jack McCall shot him in the back of the head. The cards he was holding, two black aces and two black eights, became known as the dead man's hand after his death.
These gunfighters are some of the few who roamed the Old West amongst the many others that are well known, or unheard of.
Leave a Comment