History of In-N-Out
History of the company In-N-Out and interesting facts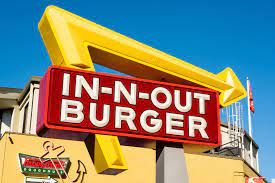 In-N-Out is one of the most popular fast food franchises in the world and is loved all over the US by all kinds of different people. In-N-Out restaurants go as far as Arizona, Nevada and even Utah so people from all over the western US can enjoy their food. But have you ever wondered where it started and how it grew to the company it is today?
The franchise first started in Baldwin Park, California 1948 where the first In-N-Out was made and the prices of the food ranged from 10 cents to 30 cents. The burgers were being sold for 25 cents per burger and 30 cents for cheeseburgers while  fries were sold for only 15 cents. Lastly, the drinks were sold for only a dime. 
Twenty-four years after the company was founded, the franchise wanted to add to their sign so they came up with a yellow arrow. Their  official website states how "The arrow points to pride" and " We all work under the same arrow" which shows they care about their workers and want them to feel proud when working.
Another interesting fact about In-N-Out is that since the first time the franchise opened, the sauce that In-N-Out serves in burgers and other foods has never changed. This shows that even though the original owner is not present, the company will still build off what he wanted as the company grows.
Another interesting fact of In-N-Out is that they have sponsored a drag racing car since 2010, which only makes sense because the owner of In-N-Out, Harry Snyder, had invested 50% of the cost to open a track in Irwindale. Additionally, dragillustrated.com states that "The legendary track in Pomona will also play host to a massive event to celebrate In-N-Out Burgers 75th anniversary on Oct. 22, 2023, with NHRA and In-N-Out Burger teaming up to celebrate the car culture that has been so important in the history of both organizations."
Many years of fans in the eastern part of the country have wanted In-N-Out to expand, which is finally happening soon. As stated in bonappetit.com, "The announcement is huge for In-N-Out lovers across the country, but don't get too excited–the first restaurant of the expansion, set to be located in Nashville, isn't slated to open until 2026."
Leave a Comment