Student Council promotes the game
This Tuesday, Student Council Treasurer,  Alejandro Salas, Student Council Officer of Public Relations Tannya Yebra, and sixth grade Student Council Representative Arianne Yebra were working really hard on making posters to promote the Teachers vs. Students Basketball Game during their Advisory period.
Alejandro said, "I feel that posters should be made because it helps students to participate in the event and make it more better."
Tannya said, "I think that it can definitely motivate them to go because the recent events have been such a success and I think that if they know an event is coming, they'll probably make plans to attend."
You can see the posters throughout the hallways of Animo Jefferson Charter Middle School. For more information about the basketball game, ask any Student Council member.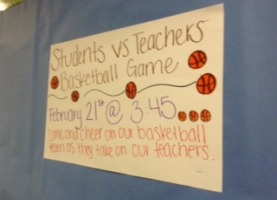 Leave a Comment