Agust D D-DAY concert at Kia Forum in Inglewood😜
Background and experience of the Agust D concert.
Background of Agust D:
Agust D had first started writing and working with MIDI when he was only 13 and started arranging and composing at a music studio at age 17. His underground rapper name was "Gloss." He originally entered Big Hit Entertainment as a producer in 2010. He also trained along his band members J-Hope and RM who later debuted in 2013.
Agust D isbetter known as Yoongi or his band name Suga. According to Marie Claire Korea, "Agust D took advantage of time on the plane and in hotel rooms after concerts to continuously produce and compose music hotel room and decided to make a hip hop song creating Agust D." His name includes his birth place, Daegu Town, and Suga backwards.
In an interview for Grazia Korea, Agust D expressed a desire to release the music he wanted to do without having to consider popular appeal or music rankings. He originally intended to release his music for free in the form of a mixtape to avoid such considerations, commenting that an album "has a feeling of being trapped in some sort of framework" due to the need for company involvement in promotion and advertising.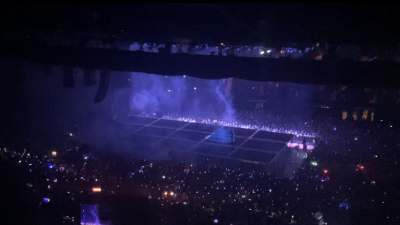 Being At The Concert
When my sister Brianna and I first arrived there was a long line waiting to go inside the Kia Forum. Everyone was dressed in black except these four girls. These two girls were wearing tangerine outfits because Yoongi also likes tangerines and the other two girls were wearing a mini wedding dress. The explanation behind the "wedding dress" is quite simple. There is this joke between ARMY and Yoongi who always comments on his Weverse Live to marry him such as "Yoongi marry me."
Brianna and I weren't in the line for too long because security staff took us behind the Forum and onto the fast pass lane (we didn't even have a fast pass), so we soon then got our tickets scanned and entered. I was planning to get merch but it was credit card only, so I couldn't, but it was VERY expensive for example a guitar pic was $25. We got inside and the first thing I saw were these blue lights with the screen looking like it was raining.
Brianna and I went up the stairs and it was very steep. Once I turned back it felt like I was going to fall so I grabbed onto the rail and kept walking up. Once we made it into our seats we waited for a bit. It was 8:09 when the concert started. Yoongi first played " Haegum," his new single and it's on his album "D-DAY" as well. The song first began by the back-up dancers carrying him onto the stage and setting him onto the floor. Once the music began everyone started screaming, the lights turned into a strobe, and there was fog coming out from under the stage.
Once he started singing I felt like my soul left my body for a hot ten seconds, like I wasn't able to comprehend that I was actually seeing him and breathing the same air as him. I enjoyed the concert in the end and I was really happy that I got to experience this again as it wasn't my first BTS concert to attend.
Something that I really did like about this concert is that it reflected on his life. One of his songs called " AMYGDALA" was recently released as well with his new album "D-DAY" talk about his struggles in life with his unsupportive parents, a motorcycle accident, battling depression, and PTSD. Even in one of his songs in the album called " Map Of The Soul 7″  called "Interlude: Shadow" talks about how it's like being in the spotlight and how he can't express himself.
Leave a Comment