Reviewing the Fast X movie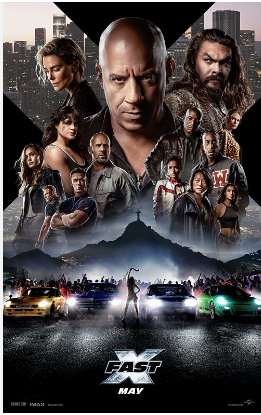 CHARACTERS:
Dominic Torretto, A.KA. Dom, was born in LA, and grew up with three siblings, who are Mia, and Jacob Torreto. His family owned Torreto's Market & Cafe while their dad Jack Torreto worked as a professional stock car driver.
Dante Reyes is the son of Hernan Reyes. In the fifth movie, Fast 5, his money got stolen by Dominic Torretto and Brian O'Conner, resulting in Dante's father's death and almost his own before Brian and Dom became the most wanted people in the world. This all led Dante to wanting to seek revenge.
PLOT:
Fast X is an action-comedy movie and has some surprising events which might catch some people's eyes. The plot for the movie consists of Dom Torreto, who must protect his family from Dante Reyes who seeks revenge for his father and their lost fortune.
SIDE PLOT:
While Dom was out trying to find out where Dante was, his crew was out in London with their mission leader Roman Pierce and his crew Han Lue, Tej Parker and Ramsey. The crew were out in London because they wanted to go find Deckard Shaw who soon finds out his mother Queenie has betrayed them and has been giving information to Dante.
REVIEW:
I personally like this movie and I would rate it a 9 out of 10. I really liked it because they had a lot of funny scenes, especially the parts that included Tej and Roman and the part where they got in a fight.
I also like the CGI but at the same time, I really don't like that they do too much in the movies. For example, in this movie Dom takes down two choppers with his car and drives off a plane. Another example is when Dom drives off a bridge while an explosion happens behind him.
I also really like the jokes, especially the jokes that Roman and Tej make, they are both really funny. I also like the backstory of Dante and how it does flashbacks to the old movies and how he is connected to them. Another good thing I like is that they had a lot of nice cars. One of my personal favorite cars in the movie was Dom's 1970 Dodge Charger. I like it because the look is unusual and not something that you see everyday now and also since it is supercharged, which makes it faster.
In conclusion, I think this was a pretty good film. The only bad thing is that they do too many unrealistic things in some scenes but overall I think it is a good movie and if you're into action and comedy I would recommend this to you.
View Comments (2)