Lakers fans react to Lakers losing
The Los Angeles Lakers are having a terrible 2014 start this year. Their status is 5-14! Would the Lakers fans stay true to the LA Lakers or would they just switch teams because they aren't doing that good?
We went around asking teachers at Animo Jefferson, who are true Lakers fans, some questions.
Math teacher, Thomas Lo said, "They are doing very poorly, but their record is much worse than it should be." Lo said,"If things stay the same they won't make it to the playoffs. They would be one of the lowest teams."
Then we went around asking another teacher the same questions and they were about the same.
Math teacher, Anita Tovmasyan said ,"I am excited that Kobe is back. But my heart breaks to the fact that they only won a few games." Tovmasyan said, "If they don't improve their game and work as a team, then the Lakers won't make it to the playoffs and would be ranked very low."
So as many people wonder would Lakers fan stay faithful to the Lakers? We asked them if they would stay true to the Lakers and they both said, "I would never change! Lakers fan to the end!"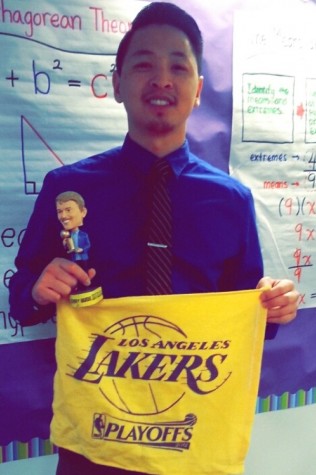 View Comments (1)
About the Contributors
Kevin Gomez, staff writer
My mission as a journalist for the Bulldog Bugle is to report and write stories that have rarity, proximity, and human interest for my community.