Do you think you are prepared for the SBAC?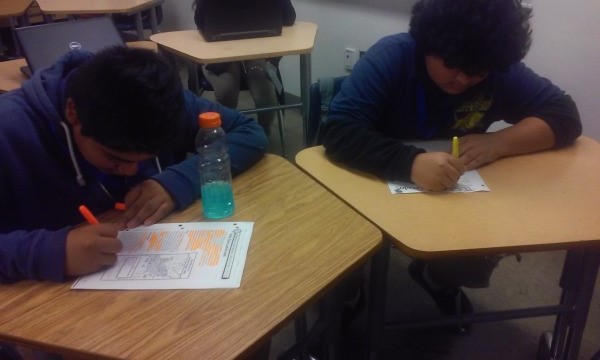 Do you think you are prepared for the SBAC?
 Teachers here at Animo Jefferson Charter Middle School are giving students computer tests called Mock Smarter Balanced Assessment Consortium (SBAC) to determine what students need to improvement on.
English Teacher, Teresa Argueta says "I think if students take the SBAC serious, then they are ready. The section where the students are required to refer to different sources and provide an opinion is what they still need working on."
Eighth grader, Brenda Cortez says, "What makes me nervous about the SBAC is being pressured into finishing it quickly. My advice for other students is to focus on their work and not to give up."
Eighth grader, Mitzy Garcia says "I think having the SBAC is a good idea because it will help us learn from our mistakes and my advice for other students is to study hard. Something about the SBAC that makes me nervous are Math equation problems."
We asked Thomas Lo, a math teacher here at Animo Jefferson, to share his opinion on the SBAC. "Yes, I think its really important that students take the mock SBAC so that they do experience what live testing on a computer is like and that they see what are some problems that they might encounter while their taking a computer test."
Over all, students and teachers here at Animo Jefferson Charter Middle School think that having the Mock SBAC is a good idea and will benefit students in the future.
We asked Thomas Lo, math teacher, to answer these questions about the mock SBAC. Lo's Interview:
Q: Do you think your students are ready for the SBAC?
A: To be honest I don't think so, but that's the point of taking a Mock SBAC. I think that the Mock SBAC is meant  to give students the experience of the state testing and how its going to be in upcoming months and also give information for teachers about what to prepare students for.
Q: What sections or topics do you think students need more work on?
A: Well it depends on the grade level, I think that 8 graders need a lot of work with function graphs,simplifying solving equations, and review on certain concepts like pythagorean theorem but , we'll see I think that's what the test is going to give us information about.
Leave a Comment
About the Contributors
Brenda Bogran, staff writer
My mission as a journalist for the Bulldog Bugle is to report and write stories that have impact and human interest by writing news for other students....