Selena Song Facts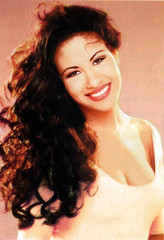 Hang on for a minute...we're trying to find some more stories you might like.
Selena Quintanilla Perez was born on April 16, 1971 and began her musical career in 1982 with her siblings. Their group name was Selena y los Dinos. Over her career, Selena had become very popular releasing seven major albums which have earned her the Tejano Music Award for Female Vocalist of the Year nine times. She is also the first female Tejano artist to achieve gold status and the first Tejano artist to win Best Mexican/American Album in the 1994 Grammy Awards.
Despite her death 20 years ago on March 30, 1995, Selena's music and albums continue her reign of popularity with both latino/hispanics and americans. These are some of her top songs and some things that you might have not known about them.
Amor Prohibido- Inspired by her grandparents' love story in contrast to popular belief that the song was about herself and Chris Perez
Como La Flor- Hit number 6 on billboard charts and number 9 on Regional Mexican Songs, was written in 20 minutes by A.B (Selena's brother) while in the shower
Biddi Biddi Bom Bom- Was made up on the spot at a concert and eventually formed into the song.
Buenos Amigos- Sung with Alvaro Torres and became her first number-one single
Si Una Vez- First written by Pete Astudillo as a breakup song after being dumped by his girlfriend and asked Selena to sing it. Also became number 4 on the Billboard Regional Mexican Songs chart in 1994, the single stood in the music chart for nearly twenty-three weeks.
Dreaming of You- became Selena's biggest single and was released a few months after her death in 1995. The song's music video was shot in Los Angeles.
El Chico del Apartamento 512- was released as a promotional single exactly one day before Selena was shot.