Kids conquering the L.A Marathon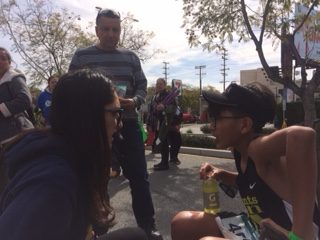 Hang on for a minute...we're trying to find some more stories you might like.
L.A Marathon of 2018
This past weekend, March 18, 2018, the LA Marathon took place and 3,200 SRLA runners ran it. The, seventeen, students at Animo Jefferson Middle School, grades seventh and eighth, prepared themselves by training four days a week and their day finally came this past Sunday. They had to arrive at school at 3:45 a.m. in order to participate, since a school bus was going to take them to the Dodger Stadium which was were the marathon began.
Once they arrived at the Dodger Stadium, they were all dying of coldness due to it being forty four degrees. Then they were all starting to use the restrooms and they were all pretty nervous, yet excited. They ,then, were starting to put sunscreen because they did not want to  get a sunburn.
Here is how, eighth grader, Joel Salas, an SRLA runner felt before the big race, "I felt excited [because] it was a big race and I was ready to run and I wanted to see what my time would be"."I was also nervous [because] in past races I have gotten cramps and I was hoping not to get them during this race".
Here is how another SRLA runner, Vanessa Barrera, felt, "Well before the race began I felt really cold, nervous, and excited." "I was nervous because I was paranoid that I would get injured and I was excited because I was going to accomplish something that not many people have done".
A few minutes later it was 7:00 a.m., the marathon had begun, and all the student and participants were all very excited to run the Skechers Performance L.A. Marathon. Everybody's faces were full of excitement, nervousness, and determination all at the same time.
We had one of our teachers', Carl Finer, that was at the Marathon so we interviewed him to see how the people were and how he helped runners during the race.
A question asked was, " How were the people when you saw them running?" Carl's response was,"Most people look good and some tired and most students weren't tired yet." " They still didn't hit the 'wall' meaning they weren't  tired yet and ready to give up". Another question asked was, "Did you give out stuff or help people?" "I brought cliff blocks and pain spray." "Ms.Borum was giving gummy bears and people liked it", said Carl. Ms. Borum was another teacher that was helping out in the Marathon, she was cheering on all the runners and people to finish this years Marathon.
"What time did you get to the Marat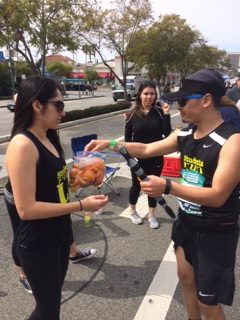 hon?" asked Ari,also an SRLA runner. "I got there at 9:00 a.m. then finish Melanie and finish with her because the 16 minute mile pace flag was right behind her". The 16 minute mile pace is the final marker which all runners wanting to finish the marathon should pass because if the marker passes you then the SRLA people come and pick you up, meaning you won't be able to finish the race.
Then everybody was finished and they were all pretty tired and sore do to them completing the marathon. We then asked a SRLA runner from our school, eighth grader, Ezequiel Banda, how he felt after completing the marathon and if he would like to do it again next year. His response to that was, "I think I did pretty well I was pretty happy too, now that I beat my time from last year, it was definitely a big improvement and I'm having a real hard time deciding if I should do it again next year".  
We also asked another runner from our school, seventh grader, Diego Aquino, how he thought he did on his first race and he said, "I think I did well especially for my first time and I am proud of myself. I am even thinking about joining next year because it's a really good experience".
This is how the runners at AJCMS did on the marathon, and  how they all finished, and came back to school. The next day, they were all tired and sore due to them finishing the marathon. These runners came back and made their school feel proud that these kids of ages twelve to fourteen finished the race and represented their school. This is the story of how kids from Animo Jefferson Middle School completed the LA Marathon.