Another school shooting In Texas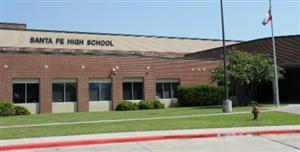 TEXAS HIGH SCHOOL SHOOTING
On a Friday morning, a 17 year old boy named Dimitrios Pagourtzis opened fire at Santa Fe High School. Ten people were killed: eight students and two teachers.
Who exactly was harmed from the shooting besides the shooters victims? Well, first of all students were harmed because they were shocked and scared of the shooting. Who would imagine to witness such a terrifying event, while being in an educating facility. You should feel safe not scared at school. On the other hand many families were affected because they have lost loved ones in the shooting. No parent should worry about their child's safety while being in school.
How do other kids feel about the shooting and the loss of their friends and teachers?
HOW DO OTHER PEOPLE FEEL?
How do other people that weren't involved in the shooting feel about the shooting?
Well, I asked Kimberly Camacho from  Animo Jefferson Middle School how she felt about the Texas school shooting.  She said," I feel very disappointed in schools/government for being unable to keep the teachers and students safe from harm."
I also asked her how she felt for the families who lost a loved one in the Santa Fe High school shooting and she said," My condolences for the family, I am very sorry that they'd have to go through that experience of losing their child at school, the one place they'd expect for their child to be safe, ended up being the place where they were put in danger."
Do other people  feel safe at their school? Or do they feel their school may be next?
DO OTHER STUDENTS FEEL THEIR SCHOOL IS NEXT
Do students feel like their school is next ? After the shooting do students even feel safe at their own school?
I asked Oscar Gonzalez a student at AJCMS if he feels that his school can probably be next and he said, "Since it's happening in other schools, there is no way to predict if a tragedy would occur in our school." He also said," If it were to happen, I would feel frightened and I would panic because there would be the possibility of my friends getting hurt."