Building our future: governor's debate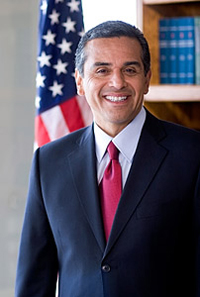 On the afternoon of Tuesday May 15, 2018  a Governor's debate took place at the Los Angeles  Trade Technical College. Candidates Antonio Villaraigosa, John Chiang spoke to reporter Alexandra Carbajal. This debate was focused on kids.
Student journalist Alexandra Carbajal met up with two of the candidates before the debate,  California State Treasurer John Chiang and former Los Angeles mayor Antonio Villaraigosa.
Villaraigosa said that he was going to focus on family problems and prevent childhood abuse just like he did in the past while he was mayor of  Los Angeles. Villaraigosa talks about the contributions he had done when he was mayor. For example there was a 48 percent reduction in the violent crime rate, homicide, rape, robbery and assaults.  
Chiang said he is the only one who addresses the poverty concerns, so poverty in going to be his main focus. Chiang will make sure that the government properly investing in families. Another main concern for Chiang is education. He will make sure that students get the support they need to do well in school.
Villaraigosa will fight for better health care. He said, " I believe that health care should not be a privilege for a few, but a right for everyone."
Chiang said he will  invest in clinics so that they can stay open longer. He will fight and protect the Affordable Care Act and funding for Medi-Cal.
Chiang and Villaraigosa are strong supporters of  DACA. Both candidates will stand up for immigrants and they both come from immigrant families. These candidates both know what it mean to have to struggle at a  young age. They know how it feels to live in poverty.
In addition to candidates  Villaraigosa and Chiang other candidates include Politician Travis Allen, accountant John H. Cox, Politician Delaine Eastin, Lieutenant Governor Gavin Newsom, Political figure Amanda Renteria, author Michael Shellenberger.
REMEMBER to vote in the  primary election August 28 and the general election November 6.