A journey from Mexico to the U.S.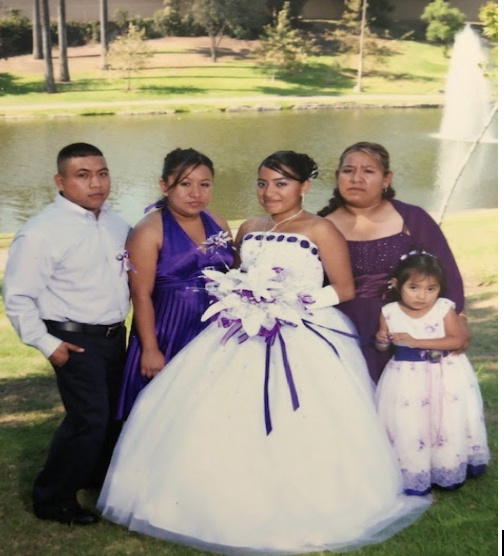 Imagine leaving behind your child in order for you to guarantee a better future for them. When Catalina Lagunas, an immigrant from Mexico, was 22 years old, she had to leave her son, Jose, in Mexico.
"It was a really difficult choice, but necessary because we needed money, I had to support my family," she says.
Lagunas left her son in the hands of her mom while she made the journey on bus and foot through Mexico and southern California.
"I was so scared but I knew that I had to do this for them," Lagunas said.
Leaving her son behind wasn't the only difficult part of the journey, the entire time, Lagunas traveled in fear of being caught by the police.
"I was constantly so scared that someone would catch me, I was paranoid about everything."
The journey through the desert and mountains was tiring, and it was frightening for Lagunas, not knowing what could be lurking behind a bush, or if she was going to get caught and arrested.
"There was one point where I wanted to give up and just die there, alone, in the desert, but I kept pushing through and I made it," she says.
A while after she got here, she had a second child, a daughter, Alma. With no one here to look after her daughter, Lagunas had to go back to Mexico to leave Alma with her mom.
"It was gonna be my second journey, and I was taking my child with me, I was beyond scared about the possibilities of what could happen to us," Lagunas said.
After leaving her daughter in Mexico, Lagunas came back to the U.S. where she worked at multiple sewing companies.
¨I never stayed at one place too long, I was either fired, or I quit,¨ she says.
For the last journey, Lagunas had found out her mom died, so she had to go back one last time to get her children.
¨This time, I had someone. My sister's husband offered to pick us up once I had the kids, so I didn't have to make the difficult journey, again,¨ Lagunas says.
Due to her lack of money, Lagunas had trouble finding a house to afford, so her sister offered to let her stay at her place.
¨I was so grateful to be here, and I was grateful for my sister for letting me stay with her while I tried to pick myself up,¨ she says.
After a couple years passed, Lagunas had her second daughter, Nancy, and years after she had her fourth and final child, Vanessa.
¨I was so happy that I was finally doing good in my life, I had a job, a house, and a family,¨ she says. ¨It was all I needed,¨ she adds.
Her daughters had the opportunity to go to school, which she never did, and Nancy even graduated from UCLA. Lagunas says that she doesn't regret her decision about coming to the U.S.
¨If I could, I would do it all over again because my kids had more opportunities than I ever did,¨ Lagunas says.