Victoria Arenas singing, rapping, and writing her own lyrics
With a pencil in one hand and a notebook in the other, eighth grader Victoria Arenas sits on her bed. With a topic in her mind, she thinks of words and sentences that rhyme or sound good together that people would enjoy. A beat plays in the background for inspiration. She sings or raps to the beat with the lyrics she wrote herself and posts it on social media for people to see.
For Victoria, singing was something she has always loved and done as a child. She has never taken a single vocal class and teaches herself.
"I started singing when I was six… In first grade, I remember our class was going to present for a Winter Christmas Festival, and so I was the lead singer and that's when I sang in front of everyone," Victoria said.
She is very serious when she writes her lyrics, and makes sure no one bothers her when she starts. It takes awhile to write the lyrics; she wants to make sure they are perfect and good. Everything around her inspires her to start writing and she can't wait to begin.
"It usually takes me about three weeks, and if I really want to do good on them, the longest it would take is probably a month," Victoria said.
"My lyrics come from how I feel and most of the time it's just things that I see or it can sometimes just be random," Victoria said.
Victoria has always looked up to the Mexican-American singer and songwriter, Jenni Rivera. She has always listened to her music and has been a huge fan for as long as she can remember. Jenni Rivera has continued to inspire Victoria even after the passing of Jenni on December 9, 2012 from an aviation accident.
"I look up to Jenni Rivera. I've always listened to her ever since I was three and when she passed away my mom and I cried. It seems pathetic, but at the same time she was someone I really looked up to," Victoria said.
Andrea Arenas, Victoria's sister, is only eight years old and hopes to be just like her one day. Andrea looks up to Victoria and wants to be an amazing singer like her sister. She helps Victoria with the lyrics and she also sings.
"I hope to be able to sing good like my sister one day. I'm happy to be able to help her write her lyrics. I'm glad she helps me practice with my singing, so I can get better. I can't imagine having another sister," Andrea said.
"My sister helps me a lot, and I'm glad to have her as my little sister. She is an amazing singer just like me; she sings the song Sunflower by Post Malone and Swae Lee," Victoria said.
Jackeline Morales is Victoria's mother. She has watched and heard Victoria sing since the day she could talk. Jackeline came from Guatemala and speaks Spanish as her first language. She is glad to have come here to America to give Victoria and her other children the opportunity to do higher things than what she could do.
"I'm very proud for Victoria. She is doing what she wants to do and takes singing very seriously. I always see her working hard to make the perfect lyrics, and I couldn't imagine myself doing that. I'm happy Victoria is doing what she likes to do, and not letting negative people interfere," Jackeline said.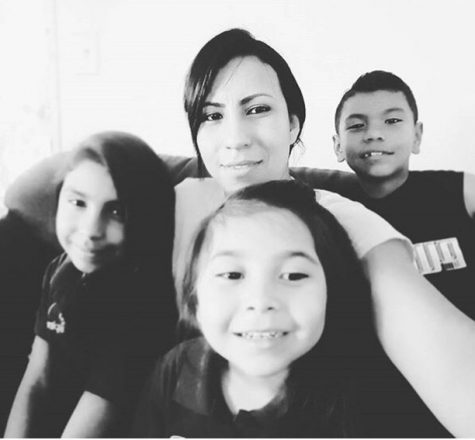 Victoria wishes to keep singing and songwriting into a hobby. She wants to make sure to aim for higher things and further her education.
"I plan on keeping this as a hobby because I want to go to college and experience different things, but I've told my mother that if I possibly weren't to go to college, it's because i'm doing it for something that I love and want to continue to do."
People who have seen her videos she posts online always comment positive feedback that puts on a smile on her face. Victoria knows that people enjoy her singing and lyrics, and no matter what people tell her, she always keep on going.