"I've always wanted to be a sworn police officer."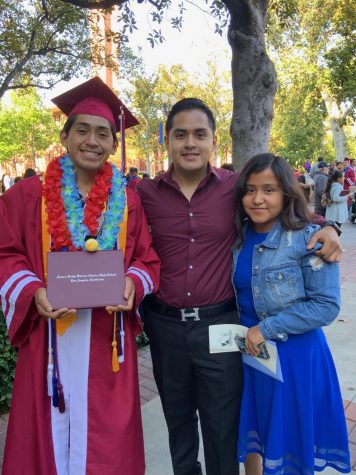 Christopher Gomez recently graduated from West LA College with his associates degree in criminal justice administration and is now in the process in becoming a cop.
He's the first person in the family to go to college and has strongly wanted to becoming a cop since he was a teenage boy. He had some difficulties when going to college since he had to wake up around 5:30am, but still survived.                                                                                                                       .
With dreams of becoming a cop, he trains hard  almost every day. He wants to make an example for his two younger brothers and also he doesn't want to disappoint all the people that look up to him.  He also wants to make a change in the community.   
Transcript:
Bethzy Gomez: What are your goals for this year?
Christopher Gomez: Well first of all my name is Christopher Gomez i'm 20  a couple goals for this year is to become a police sworn officer I'm currently in the process and that's what I'm looking into and focusing on the most of it this year and  you know stay healthy stay out of trouble and just stay committed to what i'm going for.
BG: Since when have you been committed to be a police officer?
CG: Well when I was 12 I've always looked into umm law enforcement  way going back when i was like 5 6 I would always take pictures with them when I was 12 I went to the station over at newton division and I asked for any youth programs and they told me about the cadets the LAPD cadet program I joined ugh  went to the academy for 18 weeks umm graduated in 2012 December 15, 2012 and umm ever since I stayed as a cadet ranked up corporal, sergeant, was a drill instructor and just recently left the program a 20 umm and um I'm a city employee now and now I'm in the process for the LAPD and ever since I was small I just always had interest in law enforcement.
BG;How do you feel in becoming a police officer?
CG: Well it tough now that you know now that I'm a city employee and I'm like, I'm getting exposed I like it but here and there you see a couple of tough calls radio calls we get like for example burglary, domestic violence, shooting in progress, pursuit, um traffic stops its tough but I like it I enjoy it you know it just about safety for every officer out in the field.
but umm I feel great and positive about this cause you know I be helping out the community  being exposed u know I'm bilingual so by being bilingual you know its a big hit you are able to help people who talk Spanish or English and translate and assist  every call they need you for but over all I feel great you know growing up in south central seeing gangs violence new cottages it's just a motivation to help me stay out of trouble and not follow their steps and by me becoming a sworn officer or joining the department its a change to the community but ill make a great example to all the teens in school and just hopefully by them seeing me as a male Hispanic they get motivated in joining the department or a law enforcement, military or whatever they want to do just help them stay out of trouble' stay in school and following their dreams and carrier path they have in the future.
BG: Tell a story about an  accomplishment or event from your past that had a significant impact on you?
CG: Well since freshman year I joined I signed up for the marathon you can say an accomplishment from my side is I was able to handle school work wise and sports I was in involved in the LA Marathon SRLA team I did cross country track and fields for all four years of high school and my senior year I did basketball along with all the other sports so an accomplishment was me being able to handle my school work and being part of the running team over all high school was tough challenging for me school has never been my thing I disliked it my grades weren't so good always was a C average student here and there I'll drop to a d even F but over all I was always on top of my stuff my teachers staff would always motivate me and because of them I was able to pick up my grades pick my grades meet the requirements for the sports and umm that's a big accomplishment me doing the marathon umm getting first second third place in cross country and breaking my personal record running seventies even 16's umm that's about it an accomplishment is just me being able to handle my both my school work and sports.
BG: Why did you choose these sports and not others?
CG: Well I Never saw myself doing soccer basketball don't get me wrong their great sports  but aaa since you know in the academy you always see officers running I was like hey you know let me join try it out check it out if I like it then imma stay and I did first sport was a marathon signed up  every month we do every 5K 3 6 9 12 until we hit the marathon I enjoyed it I did cross country which is a 3 miles over at elision park competing with other school umm I liked it too started at 18 minutes 19 minutes and then going  to city finales city championships and breaking record at 17 ties or even 16.55's and track and fields running around the track running was my thing I Felt like running was more of what I am capable of and have strength in and that's the reason why I stayed in running and not basketball soccer or any other sport but my senior year i did basketball just to try it out it wast my thing but I put my best effort in it  and yeah that's about it and I could say I'm more of a runner and yep
BG: do you have a favorite story about running?
CG:I don't have a favorite you can say favorite or so but umm maybe as a team for cross country is 7 runners we train so hard with thanks of our couches Coach Flores and Coach Perez we went up to Mammoth and trained the hills it was a tough season we wanted to win and compete other schools and take over first second or third place that year we pushed so hard and maybe the best story I can say is umm for city finals we took second place over all as a team we made our coach proud all of us got new pears which is personal records we all in bye minutes not seconds and as a team all 7 runners we just beats out there in the field and that's about it that's was an accomplishment from us and from our coaches to the school.
BG: Ever thought you would get this far?
CG: I Never saw myself getting this far like is aid school was never my thing to me to be part of these sports with you had to have a minimum requirement of a gpa of 2.0 which that means all C I was never good at taking test, quizzes nut umm it was challenging I almost failed my senior year I had like 5 F and one D but umm that was one of my big challenges but over all I pushed myself with the help of my staff and teachers I was able to pick up my grades and pass all my classes and graduate also cause of the LAPD cadets and all the other stuff I did was just a motivation for me to keep doing good and passing my classes for me too keep succeeding and accomplishing what I've always wanted to be which is a police sworn officer and  that's it  
BG: When growing up did you ever change your mind in becoming an officer?
CG: Umm with my junior year and senior year I had an interest in becoming or joining the marines joining infantry o3 11 but it was always between physical and the physical field  
so it was between law enforcement or the marines  but i never saw myself becoming a teacher ,surgeon ,custodian or so fourth since I was small I've always saw the police officers with their badge their gun their san brown their uniform and the black and whites with the red white and blue sirens and I just always kept that to myself and told myself hey I wanna be like them one day and umm yep since small I've always said police police law enforcement and umm now that i'm 20 i'm still looking into law enforcement and I don't see myself joining any field or any other job beside either security or law enforcement but nope I don't see myself in any in doing any interest or in or other field besides umm law enforcement or military 
BG: You said you wanted to become a marine why did you change your mind?
CG: Well its marines it more of a special elite team all you do is go out there train 90 days 3 months then get deployed which means you send out in a either Iraq or Afghanistan  you go out there for a couple months the reason I changed my mind was cause you know you see many stories of people getting injured loosing a loved one losing a leg so i'm the oldest out of this family I'm the fist one to graduate go to school go to college and aaa if I were to leave to the marines I would of have left my parents  and they need help and support from me and just by sticking to what I've always wanted to do which is law enforcement is just a way for me to motive my siblings my sister and brother and making my parents proud for all the support and making all my teachers, staff, wso's proud of me and that's the reason I changed my mind.
View Comments (6)