Baskin-Robbins ice cream cakes are delicious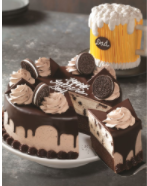 The top three best place to get ice cream cake are 1. Carvel, 2.Baskin-Robbins, 3. Ben & Jerry's. But I  am going to talk about my favorite place to get ice cream cakes: Baskin-Robbin.
Baskin-Robbin has many great flavors and cakes. They have up to 16 Baskin-Robbins ice cream flavors to choose from for your cake if you customized it. Or you can just go in and they have some ready to go in the fridge.
There are many ways go can get a cake. You can go in and order it if you are going to customize it. You can also order it online and you can pick it up. Or if you are not going to customize it you can just go in and they have some ready to go in the fridge and you just choose which one you want that they have there.
The only bad thing is that they can cost more money than other cakes. The 6" round cake cost $24 to $28. The 9' 'round cake costs $30 to $41. The double sheet cake can cost $89.99. It depends on what cake you get or how you get it. It might be precise, but I think you will like it.
In my opinion I thing Baskin-Robbins cakes are delicious. I think it is delicious because the ice cream is smooth and creamy and the cake taste good. My favorite is that cookies and cream ice cream and the chocolate cake from Baskin-Robbins.
I  recommend it if you like cake and if you like ice cream. I recommend it because you get the best of both worlds. I do not recommend if you don't like ice cream or cake. But overall I do recommend it because if you have a party I think that everyone will enjoy it.
View Comments (4)