How AJCMS decided to integrate cheerleading ?
People may wonder how cheerleading started at Animo, and you're about to find out.
Cheer leading coach Lora Walters said, "last year I asked around to see which teachers would be interested in creating a cheer team with me.  Myself, Mrs. Ven, Mr. Edillon and Ms. Berke decided to make a cheer leading team for a few different reasons.  One reason is because our school does not offer P.E.  Another reason is because I was a part of different dance teams growing up and it was a great experience for me so I wanted to pass that along to my students.  Mr. Edillon has a history of coaching cheer so he really helped us get started.  We couldn't have done it without the support of Mrs. Ven and Ms. Berke.  Also, because its fun. This year Ms. Vorgias has joined the team. " Cheerleading coach Lora Walters also said, " I hope the cheerleading team continues for as long as the school is open.  Cheer leaders contribute to a positive school culture and within the team long lasting friendships are formed."
Cheerleading coach , Teresa Vorgias said, "I believe that everyone, no matter what they are working on, needs support. In class, your teachers support you with academic lessons.  When you are struggling, you are able to attend Guided Study or talk to your teacher for additional support. I strongly believe that athletes deserve the same support on the field. They may not be able to hear their coach, but they can hear the cheer leaders. In addition, the cheer leaders help initiate a camaraderie  for the students, allowing for everyone to feel involved. " 
This is how we got our motivation to have a cheer team, with the support of the different coaches .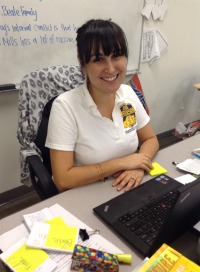 Leave a Comment