Diary Of A Wimpy Kid: Dog Days is a silly book!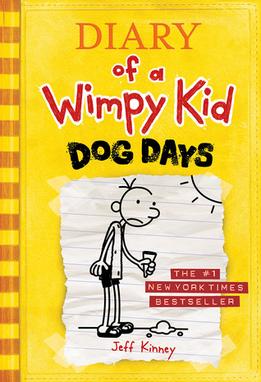 Diary of a Wimpy Kid, Dog Days, was written by author Jeffrey Patrick Kinney (also known as Jeff Kinney) in 2009. Jeff Kinney is also the founder of the website Poptropica and still writes today. In the book, Dog Days, it talks about Greg Heffley's summer. Greg tries to enjoy his summer, but his family keeps ruining it for him by not letting him do what he wants. Greg and his best friend, Rowley, try to go and enjoy their summer by trying things they've never done before and going places just for the fun of it. However, things don't go as expected, just like always. 
Dog Days also has a movie, but I've never seen it before so I can't give my opinion on it. But the purpose of movies is to bring a visual experience to you if you aren't good at imagining, because that's what books do. Books spark your imagination, because you're the one imagining what happens, and everyone sees in different ways because we all think differently. Movies are in the moment because they are already ready-made, you don't have to use your imagination because you're watching it happen and everybody is seeing the same thing you are. Movies also generally take less time than books, sometimes. This is why I personally like books better than movies. 
I personally liked this book because it's a diary which is in first person, and I really like that. You get more detail and an outlook from the first person perspective. What I mean is that you get opinions and thoughts based on the first person. What I also like about this book is that it's short but it's still funny. If you need a short book to read, this is it. It won't get you bored and it's entertaining like the other Diary of a Wimpy Kid books. 
In conclusion, this book was generally random but funny. I really enjoyed it. It's not a serious book because it's more comedy. There is no age range for this book as it's for everyone. If you're looking for an easy read or just laughs, then this book is it. I'm telling you, pick this book. If you end up enjoying this book, then I also recommend reading the whole series. It's never too late to start.
View Comments (1)