Why should you listen to Bad Bunny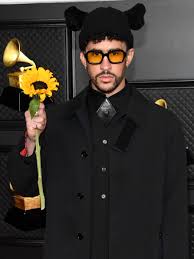 Bad Bunny is a singer/songwriter that you must listen to! Bad Bunny is well known in lots of places.  Maybe people you know listen to him. He was the most played artist on Spotify last year (2020). He also has won many awards and has been nominated for many as well – he recently won his first Grammy. He is an icon and inspiration to many people. You may have heard him collabing with some of your favorite artists too like Jennifer Lopez, Ozuna, Karol G, Becky G, Rosalia, Marc Anthony, Maluma, Daddy Yankee, Anuel AA, Prince Royce, Cardi B and more!
One of his top albums blew up [YHLQMDLG]. According to Mesfin Fekadu from USA Today, "NEW YORK — The year's most played artist on Spotify? Globally speaking: Bad Bunny. The Puerto Rican superstar is the music platform's most-streamed artist of the year with 8.3 billion streams globally." This tells us that many people enjoy his music and many of his songs hit top of the charts!
He has been nominated for many awards throughout his music career and has won many of them. He recently won his very first Grammy for Latin Pop Album. In a video showing us his acceptance speech on the Grammy's website he says, "I'm very happy, I'm really happy, I'm very proud… ummm, I want to thank ummm every person in the world that… um listens to my music and supports my career and my ideas. Es muy especial poder umm lograr los sueños simplemente haciendo lo, lo  que amo. Que me den un premio por hacer lo que amo es como que…. Ok, damelo, jaja." He just really appreciates the people who support him for something that he loves to do and won a Grammy for it! People should listen to him to see what more things he can do. Who knows, maybe he will be one of your favorite artists!
Lastly, his music is very popular all around the world and it benefits the Latin Music community. According to Timothy Monger in an article on the website "All Music" he states, "The success of Bad Bunny underscores the rise of Latin music as a cultural force. Long marginalized as a niche, Latin music has benefited from global streaming services that allow acts from Puerto Rico and Colombia to reach fans all across the region." This means that Bad Bunny has helped the Latin community music grow. It honestly helps the Latin community be more "noticeable" and inspires many more people to become that bigger person.
I think that there are many reasons why people should listen to Bad Bunny.  He's many people's favorite artist. Bad Bunny hits the top of the chart, he earns great rewards, and positively influences his own community.