What it's like being an editor for investigations
For most people it is fun being in investigations, sharing stories to the school, and researching anything that will be interesting for the website. But have you ever wondered what it's like being an editor for that class?
Well firstly, investigations is an eighth grade English elective class filled with reporters (staff writers) and editors. The reporters and editors get to write stories for our website. The stories could be about events that are happening recently, interviews, opinion, and photography.
However an editor's job is more than just writing stories. An editor should do many things in order to keep the Bulldog Bugle a fun, trustworthy, and accurate news website. For instance, editors read over and over the drafts of the staff writers and check that there are no errors so it could be perfect on the site. We also assign the staff writers work. We keep track of what projects and articles they're doing. We check on our staff writers to see if everything is OK and if they have questions about anything. We also give them suggestions and ideas that might help their article look better and precise. Then, when everything is ready, the pieces will get uploaded to the website.
Already it's tough for editors, and helping out the staff writers with their work is a lot of work.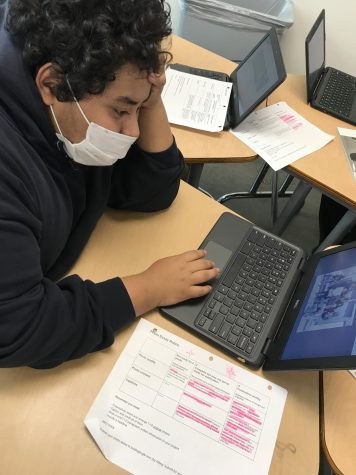 Alfonso Estrada said, "Being an editor will either be difficult or easy depending on the day. Like when projects are due and everyone is calling you so you can check on their work, it can be frustrating!"
Gilbert Gomez said, "I think being an editor is an easy job because giving advice and helping the staff writers is easy and nice to do. I also enjoy the fact that we got an opportunity to go to a field trip to attend a journalism convention in San Francisco."
What Gilbert said about the Journalism Convention is true. All the editors got to go on a special field trip to a journalism convention. The JEA/NSPA journalism convention happens every Fall and Spring. This year's 2023 JEA/NSPA spring convention happened in San Francisco. All editors plus two teachers went and we stayed in San Francisco and had fun.
Alfonso Estrada said, "Going to San Francisco and staying over with some classmates and two teachers is a whole new experience. Going to the convention helped me improve my journalism skills."
Eduardo Teodores said, "I had fun in San Francisco. Spending days with my friends was great. Attending the convention was cool too. We met new people and enjoyed San Francisco."
Mostly all editors had a great time in San Francisco. We all met new people and had fun.
So now you know it, being an editor could be difficult at times but fun in others. So now you know what it's like if you would like to be an editor too.
Leave a Comment