Diary of a Wimpy Kid: Dog Days is a funny bone tickler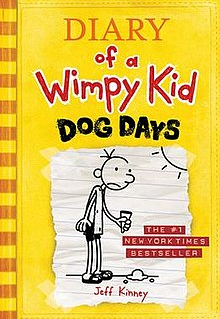 If you like comedy and funny characters this book is for you. This is one of many books in the series by Jeff Kinney. In this book the main character Greg Heffley tries to have a good summer by sitting in front of the television playing video games , but his dad has other plans for his summer. The father wants to have father-and-son time with Greg. Instead of Greg spending time with his father, he decides to go to a country club with his best friend Rowley Jefferson, but everything goes wrong. For Greg Heffley there's never a normal day, there's always another interesting thing happening in his life.
I personally prefer the book over the movie because it is more detailed and better explains the scenes in the movie. Although the movie shows some scenes that the book does not show and tell, the way the book's pictures are drawn are really funny looking, like the character Fregly. The book was released on the date of October 12 of 2009 and the movie was released August 3 of 2012. Everything in the book is very well drawn and the author writes the book from the point of view of Greg Heffley as if he is writing in his diary. 
I recommend you this book when you are just feeling bored and have nothing to do, it will make a smile or a laugh appear in your face. It is very interesting and funny that you may want to read all the books in the whole series. A lot of people had read this book and their were really interested it seemed as if the book was taking control of their mind. This book would be good for you if you like to read very little and like looking at the pictures of it.