The Hate U Give – "What's the point of having a voice if you're going to be silent in those moments you shouldn't be"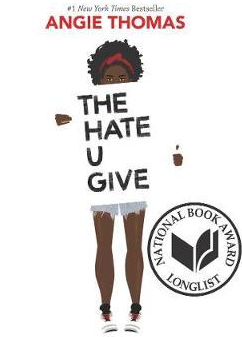 "The Hate U Give" by Angie Thomas is about girl named Starr Carter, a 16-year-old American girl living in Garden Heights, a fictional black neighborhood, but attending predominantly white Williamson Prep private school. After a gunshot goes off at a party, she is then driven home by her friend Khalil who is then shot by a cop which then starts a riot in the town.
The reason I really enjoyed this book is because of how realistic it goes over a serious problem.  The book has a really good storyline and has really good character development. There are also very sad moments in the book but there are also funny and fun moments that happen within the book. The book also ended with some questions unanswered which I find very interesting in books because you are able to say what you think happened.
A  book that I would compare this to is "Dear Martin." I've never read this book but from the reviews I have read "Dear Martin" seems very similar to "The Hate U Give" because the book discusses very similar topics like racism, police brutality, and stereotypes. In "Dear Martin" the protagonist also goes through difficult losses. Another reason "Dear Martin" is similar is because it says how the main character is trying to fit in, which happens in "The Hate U Give" because Starr goes to a private school with all whites.
In conclusion, I would strongly recommend this book to anyone that enjoys non-fiction books that talk about real topics in life. This book is also good for anyone that enjoys books with drama.