Diary of a Wimpy kid is mainly bad luck!!!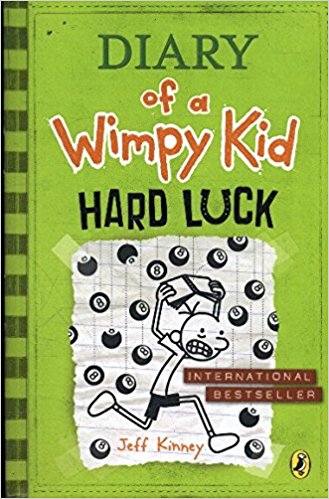 Diary of a Wimpy kid is a great book.  Jeff Kinney has made many books in the Diary of a Wimpy Kid series, but I think my favorite of all time is "Diary of a Wimpy Kid: Hard Luck." This book is very funny and it's a very addictive book to read. You're probably wondering why it sounds interesting? Well actually it's interesting because it has many plot twists and not only that but excellent characters that make you want to laugh so hard.
"Diary of a Wimpy Kid: Hard Luck" talks about this kid named Greg Heffley having a really hard time. His best friend Rowley Jefferson has ditched him, or should I say betrayed him. Greg is really struggling with making new friends. He will have to try and take a leap of faith in order to make new friends in middle school since Rowley is the only friend he actually has. Rowley just betrayed Greg, and I will not spoil on the probable cause on why Greg's best friend had suddenly just betrayed him. I will just leave you to it.  
After all, Jeff Kinney is a very funny author that pretty much enjoys writing very funny books and he knows how to crack a joke. Comparing the other books that Jeff Kinney wrote, I really enjoyed reading "Diary of A Wimpy kid Hard luck." I thought that this book was going to be boring but I'm going to tell you the truth: it was a bit boring at the beginning but as I continued reading this book it made me burst out laughing.
I am not forcing you to read this book but I recommend you to read this book just in case you need to feel happy. I sometimes like reading this book when I'm having a hard time because I know that I'm not the only one having a hard time.