The Graveyard Book is a bloody crime scene that you will never forget.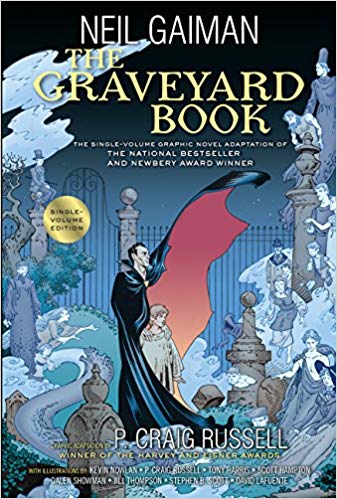 The Graveyard is a book that will keep you engaged and make you want to read volume 2.
This book is about this guy who was hired to kill this family of four at night. The whole family was asleep except for the toddler. The toddler was up and started to wander around and got a weird odor and went down a hill, which took him to the graveyard. The guy who was hired to kill the family started to follow some footprints which led him to the exact same place as the toddler. The ghosts at the graveyard noticed the toddler in the graveyard and took him in and tried to figure out what was going on. Not too long after that, the toddler's mother's spirit came and warned all the ghosts that there was a killer looking for her kid and to please protect him. The ghosts then named the toddler Nobody Owens.  They continued on with their ghost life and as promised, they looked after Nobody Owens.
This book starts with such a big conflict that it gets you wondering what will happen next. This book was really mysterious and eye opening. What I mean by that is that the moral of this story is to not take everything for granted and to appreciate what you have. This book is different from other books because usually the conflict happens in the middle of the story but for this book it occurred in the beginning, which is better because then because you have an idea what it is you're reading about.
The author put in really descriptive details and made the story very interesting. If this book had to be rated on a scale of 1 through 10, I would definitely give it a ten for its amazing introduction. I would definitely recommend reading this book.