milk and honey – "Each word she writes tells the most beautiful poetic story ever"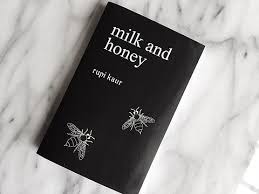 "milk and honey" is the most inspiring female empowerment book there ever is. This beautifully written, easy to read poetry is what everyone needs in their lives.
This book by Rupi Kaur is about her surviving certain traumatic events such as rape, molestation, breakups, and neglectful parents. Though it also has some uplifting parts, like for example eventually accepting the fact that her ex is no longer with her as well as also accepting that all she needs is herself and learns to love herself and her body.
Kaur writes an original story and also includes drawings of her very own that represent each word. Each word she writes tells the most beautiful poetic story ever. The way that she writes is so meaningful and it shows she really means what she's talking about.
The chapters describe the book itself, the four stages of grief: the hurting, the loving, the breaking, the healing.
Kaur also explains how society treats girls and women from birth. In chapter "the hurting," it says, "there is no bigger illusion in the world than the idea that a woman will bring dishonor into a home if she tries to keep her heart and body safe." 
A brief summary of this book is it's about how a girl eventually survives being molested by a close family member and survives break ups by having more self esteem and self confidence.S he also teaches other women and girls (such as myself) to learn to love themselves because no one else will. My honest opinion on this book is that it has taught me that I don't need anyone to make me happy and to love my body because it will be the only one I will ever have.