Diary Of A Wimpy Kid is a good book for kids!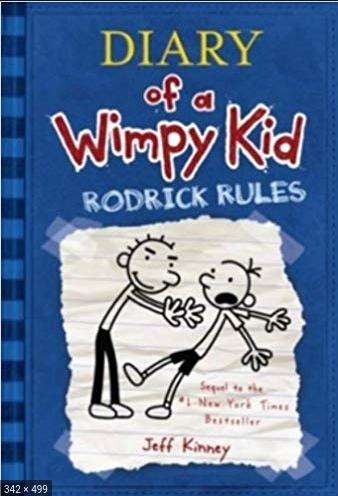 Diary Of A Wimpy Kid: Rodrick Rules by Jeff Kinney is one of my favorite books to read. The story focuses on Greg, the main character, and Rodrick.  He also explains how his dad made him join a swim team in the summer and Rodrick would have Greg sit in  the back of his van because he didn't want Greg to get his car wet.  Eventually, Greg just started walking home instead of Rodrick picking him up. Mostly this book is about his family, friends, spending time with them and especially Rodrick teasing him or black mailing him into doing something for him.
The characters in the book have very realistic and normal personalities, but a few things weren't so realistic such as Rodrick always tricking his dad into doing his homework. I think this doesn't seem realistic considering any adult would be smart enough to not fall for that. For example, in The Ugly Truth, also by Jeff Kinney, they had a pet pig that stands up and acts like a person, which isn't very realistic.  But then again, this is a kids book so not every little detail will be realistic.  Also, it is a fictional book.
This book in particular is different from the other books in the series because it's focusing on Rodrick and Greg, but in the other books they have a main theme. Also the book has some illustrations, which I think is great because it gives a visual of what the characters look like, and most of the illustrations are funny, which makes the story even more fun to read.
Overall the book is very interesting to read because of the fact that it relates to kids. I would recommend this book to kids ages 8-12 because it is a fictional story. I thought the ending was a classic happy ending and it was good that Greg and Rodrick settled their differences and were able to work together. The ending has sort of a lesson to it, which is good that the story teaches something to the readers.