"My brother's tears left a delicate, clean line on his face. I stroked his cheek, whispered, it's really you…"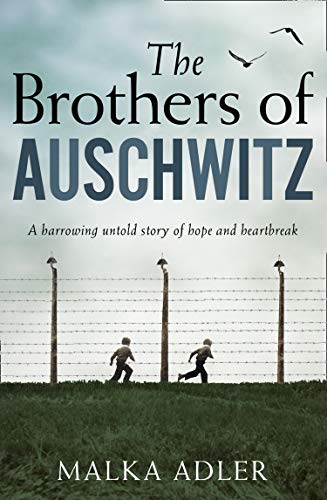 The Brothers of Auschwitz by Malka Adler is a book based on a family of Jewish people being taken from Nazis in their own home and taken to camps. It explains their journey back to each other. I enjoyed reading this book mainly because it's an event that happened in real life and it's the true story of what two brothers experienced there.
It tells their point of view of what they saw and what they experienced and felt while being in the concentration camps. Most of this book was sad because it talks about brutal ways Jewish people died during this time period and how German soldiers mistreated them for being a "Jew." A lot of them died in the camps because they were starved, experimented on, gassed, burned alive, or died in death marches, suicide or by a bullet in the head. It's a novel filled with hope and heartbreak.
I recommend people reading this book because its one way to learn about the Holocaust and read what they had to go through in order to make it out of the camps to go back to living the regular life they were dreaming about living while being in the camp they were deported to. I don't only recommend this book for that reason but I recommend it because its based on a true story, so for people who like true story books, this one is a good one it's a roller coaster/wave of emotions that is being described throughout the book.
There's really no way you can describe this book's emotions because there's so much back story and details that lead up to them so, read it and find out. It's worth reading this book.
Leave a Comment