Grade Level Competition Winners
Hang on for a minute...we're trying to find some more stories you might like.
In Animo Jefferson Charter Middle School, they held a grade level competition for the month of March. During this month, all the students were nervous, but mostly excited to see who would win and what the prize would be. Throughout the month, many activities took place that helped each of the grade levels receive points. For example, there was spirit week, IM games,  and which grade level got the least detentions and tardies. Also, how many merit cards each grade level turned in to the front office by the end of the day. Last time, the 6th graders won, but this time the 8th graders won.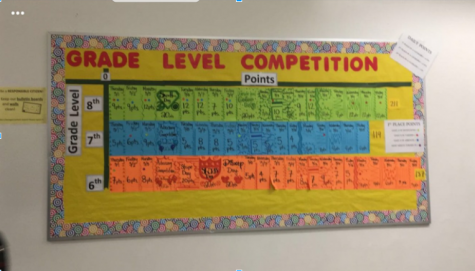 The event that help the grade levels receive the most points was the Advisory Competitions that took place either Wednesday or Friday, winning this event gave the grade level a total of 60 points. The second event that really helped the grade levels was Spirit Week, which was when we had to wear a specific shirt each day for a week, giving the grade levels a total of 20 points each day if their grade was the one with the highest number of students participating.
Here are some thoughts of students from each grade level:
Ezequiel Banda, an 8th grader, states, "I'm kind of part of my grade level winning the competition and I hope this can inspire some of the seventh graders to do the same."
Lesli Delagdo, also an 8th graders, states, "I feel happy I guess because now we will go on a field trip and won't be at school"
Lastly, Vanessa Barrera, another 8th grader, states, "I feel okay about it because I didn't really care but I liked that we won a field trip."
Every students has a slightly different reaction to it.
During the first week of April, we found out that the 8th graders won the competition. The students were excited, since they had worked so hard to win this. They also found out that the prize would be a field trip to Golf N' Stuff or to the movie theater.