Will Black Ops 4 be more popular than Fortnite?
Hang on for a minute...we're trying to find some more stories you might like.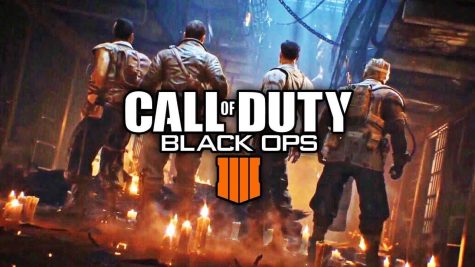 Black Ops 4 is a new game coming out in October 12 of 2018. The game will be available for Playstation 4, Microsoft Windows, and Xbox One.
The game will have multi-player, zombies, and a battle royale mode call Blackout. Blackout will replace the regular campaign mode, and in this game mode will be land, sea, and vehicles for players to use.
Blackout mode is a battle royale mode and the point of this game mode will be to survive from all the players that are trying to kill you. You have to kill them before they kill you, so then at the end you could be the last man standing and win. It will be a game mode with 100 players in it, all will be of them trying to be last one standing and win.
Valerie Hernandez, a tenth grader, said, "I've played black Ops since the first game came out and I also love to play Fortnite because those two games really challenge me and it would be great to add a battle royale mode on it."
Black Ops has always been a popular game and battle royale games have recently become very popular too, so putting a battle royal mode in Black Ops will be great especially with all the guns that they already have and all the new guns they will put in the game.
An eighth grader at Carver Middle School named Bryan Rosas said, "Blacks Ops one, two, and three were all great but now I think this one will be better because of all the things they are adding in and because of the time they look to make it so this game will be really great and they are bringing back an original map Mob of The Dead and I can't wait to play in that map again."
He is very exited that they are actually trying to make BO4 better than the last ones and put the classic map back into the game that many people played in BO2.  This map will be named Blood of the Dead and it comes from the map in BO2 called Mob of the Dead. This map takes place in Alcatraz and is based on four prisoners that were trying to escape the island but while escaping they had to take out a guard. The thing they used to take him out with was infected, so then he turned into a zombie and the infection started to spread.  After that they had to find another way off the island without being infected.
Joshua Cordova a six grader from AJCMS said, " Fortnite is a great game and so is COD. In COD there are multiple game modes like campaign, multi-player, and zombies. And in Fortnite there's also multiple game modes like save the world mode and battle royale mode. So once COD comes out it will have an additional mode call Black out."
A lot of people are exited to see it come out so they could play the battle royale mode and the new maps they are going to add into the game. Fortnite and BO4 will both be very popular games and will both be played a lot so there is no telling which one will be more popular.