The Harry Potter movies: An escape from the real world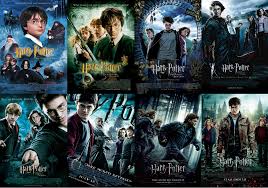 "Yer a wizard, Harry" were the words that made Harry's life different in a good and bad way. Harry Potter was famous in the magic world but didn't know why. Harry didn't feel famous in the muggle (non magic) world because he was emotionally abused by his uncles because his parents died when he was a baby. Eleven year-old Harry never thought he would be happy and would face challenges with the new friends he meets. Some of the challenges would be him facing off against the person that killed his parents, Voldemort. This all happens when Harry goes to the best wizarding school there is, Hogwarts, under Albus Dumbledore's watch. Harry goes to all his adventures with his best friends he meets on the way to Hogwarts, Ron Weasley And Hermione Granger.
         This whole movie series was amazing with all the unrealistic stuff that happens. This is because in every movie you can tell there was going to be a good adventure with the golden trio (Harry, Ron, Hermione) trying to defeat the dark lord who killed Harry's parents and now wants to kill him. This all makes me feel like I am escaping the real world. Not only that but the whole series has amazing characters that make you want to have people like that in your life.
         When you see these movies you could only wonder what happens next. This makes people go crazy and want to watch the next series. Adults even say they have a space in their hearts for Harry Potter because this makes them forget they are adults. What also keeps people entertained is all the magic that happens throughout the movie.
        When I see this series this makes me think about all the stuff that would have been different in the world of the movies. As a young person I would say that kids would love this because of the magic and all the fun colors. Not only that, I love the humor of all the characters. I know some people love them too because some people cosplay them on social media. For example I have seen Tik Tok of people cosplaying characters or communicating with them.
          I could compare these movies to the books they were based on because the books are so different from the movies. For example, in the first book Harry Potter and the Sorcerer's Stone, Harry's uncle saw the Hogwarts professors in the muggle world. On the other hand in the movie you can only see the professors when Harry goes to Hogwarts. If you haven't read the books you should, it makes the movies seem so interesting due to it's unrealistic props and characters.
Here are some of the differences between the books and movies: https://www.youtube.com/watch?v=gpGC60ygbxs 
Here are some Tik Toks:   https://www.youtube.com/watch?v=7SMbiGfnvMs