"Diary of the Wimpy Kid: Dog Days" is full of funny moments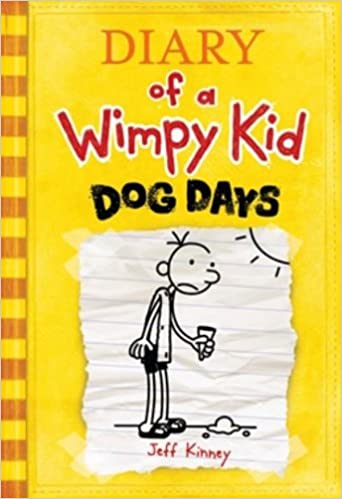 Diary of a Wimpy Kid: Dog Days talks about a boy named Greg and his friend Rowley who have nothing to do for their summer after being done with seventh grade. After they decide what to do they end up getting in a lot of  trouble.
As a fan of this book series, I had high hopes for this book because Jeff Kinney did not disappoint with his other book and now that I have read this book, I would say it did not disappoint either. Jeff Kinney created a story between two characters and their summer, sharing new material about the characters and bringing back old material from his previous book. Instead of focusing on a beginning, middle, and end the book takes its time on the plot, starting slowly and then picking up the pace. Its ending solves the problem and hints at a new book. I do feel like the ending is rushed and did not explain the conclusion but still I really enjoyed the middle since it had funny parts of the story.
This book also has strong secondary characters such as Rowley, who is Greg's best friend, and also Greg's mom, who is the stereotypical mom, but that makes it even funnier. These characters brought comedic relief to the reader with Rowley and Greg's funny antics. Jeff Kinney made Greg's personality funny but sometimes he says something and is being literal. I was not sure I would like Greg like that but he had his funny moments with that personality. This book features some things from his other Diary of Wimpy Kid book such as their news club and the comic strips and how Greg thought he could replace Rowley since he got injured in his toe.
Overall, Diary of a Wimpy Kid: Dog Days was a great book with great characters and an amazing story. Also I am looking forward to seeing what Jeff Kinney can come up with in his next book because he is currently on his 16th book and if he makes his next book I will buy it to read it. Finally, I would recommend this book to people who like jokes and also people who have nothing to do. 
Leave a Comment