Matilda; a story that everyone will enjoy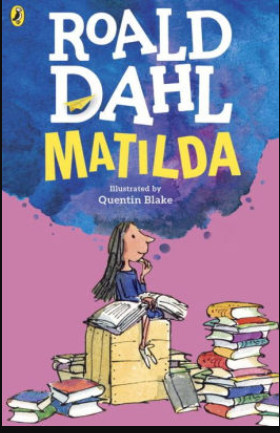 Matilda by Roald Dahl is a lovely, charming and outstanding novel. Matilda is a small but bright girl who is heavily underestimated by her horrible parents, Mr and Mrs. Wormwood. At a young age, she could do many spectacular things no one could imagine. She impresses a lot of people, especially Miss Honey, her teacher. On the other hand Ms. Trunchbull, the school principal, is not impressed at all. Ms. Trunchbull thought children were disgusting little insects, especially Matilda, but Matilda has learned a special skill that would become very helpful along the way: she's a miracle worker.
Roald Dahl's style of writing is straightforward and appropriate for many readers. It may contain some very rude words but overall the vocabulary is great. In my opinion, Roald Dahl has created another excellent and successful book that has become a major motion picture. The book takes many perspectives. For example, Roald Dahl explains what rolls through the mind of both Matilda and Miss Honeyeach. This book also explains real-life situations that we may have experienced. For example, it shows children being put down and told what to do because of their age. Matilda seems to have trouble with that with her parents and Ms .Trunchbull but she OVERCOMES them. This makes the book more intriguing and enjoyable to read. Once I had set my eyes on the book, I couldn't let go of it. The book also has good drawings that made it easier to visualize the book better.
I would recommend this book to people who are looking for a good laugh and a great fantasy fiction novel. It introduces many great story elements such as a good and interesting conflicts like Matilda and her parents, Ms. Trunchbull and the students etc. Roald Dahl has also written other great books like Charlie and The Chocolate Factory, The BFG, James and The Giant Peach. Matilda also has a movie to it. The movie was a great  but left out a few details from the book. But overall it's a great movie to watch after you finished reading the book. 
I would rate Matilda a 10/10.