Don't wait forever to try Olive Garden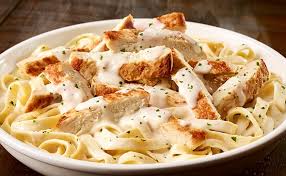 Olive Gardens is a kid friendly restaurant. It is near a lot of shopping centers, including at Montebello Shops, Lower Level. Olive Garden is very organized and the staff are very friendly, and there isn't really a problem with the staff. You can make reservations and it won't be a problem.  The parking is also easy.
The food is very delicious. I was thrilled with my first restaurant experience because the food was so good.  I used to come a couple of times prior to COVID but then the restaurant closed because of the pandemic. When everything kind of settled down Olive Garden started opening up but it was only for deliveries and takeout. The delivery is a good working system because because we can pick up our food or they can deliver it. It is very comfortable and easy to pick up from your car.
The food there is cheap. The appetizers are around $9-10 and if you like soups and salads they're $5-6. If you like or want chicken or seafood for a big meal it is $14-15 no more than $20. The kid's meal is so cheap! Not only can you eat at Olive Garden but you can also have birthday parties there and also brunch. Their chicken alfredo is by far one of the best items on the menu along with their endless supply of bread sticks.
The sitting area is comfortable and it is very nice. They have an outdoor patio in case you have an animal or if you just want to eat in the fresh air. If you need an extra chair at your table you can simply ask the employees to help you move it. When I went I had thought "Why did it take me forever to come to this place?" Our service was good and me and my family will definitely come back.
Overall my opinion on Olive Garden is that it is a very kid-friendly place and it just has great food.  If you're a vegetarian, there's even food for vegetarians. It has good service and I recommend people to come and try this awesome food. I like it there and it was the experience I wanted.