Visit the District Skate Shop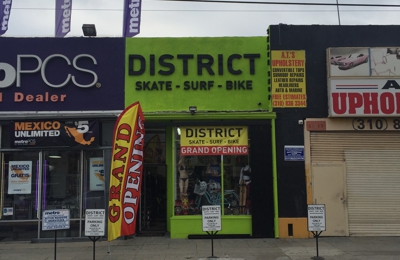 The District Skate Shop is a good place to look for a skateboard if you are learning how to skate. 
For the past seven months I've been wanting to learn how to skate thanks to the Covid-19 pandemic. Finally on September 21st my mom gave in to me harassing her everyday. She said "look for a skate shop and we will go and get it before I spend my money on something else."  I got online to look for a skate shop around my neighborhood. To my surprise the closest one didn't exist anymore. Then I found The District Skate Shop located in Venice about 5.3 miles from my home.  I was excited!
I told my mom and she said "Ok you have five minutes to get ready."  As we piled in the car my mom was looking at the directions saying " the address looks familiar, but I can't remember from where."  To her surprise the place was a block from where her boss lived.  My mom said, "It's funny how you pass the same place for so many years and not notice what's there."
My experience was better than I expected. The owner Sam was very nice and he answered every question my mom had. He suggested some boards that would fit well for beginners such as myself. The boards come in different sizes: some are long and some are short. It all depends what fits the person that's going to ride the board. The shop has boards with different types of designs and logos. The prices are affordable and setting up the board is free.
I bought a board from his shop and the quality of it is amazing. It has two doves as the design. My brother's board on the other hand has a skull with a sword in the middle. When riding the board the wheels are able to go over cracks and bumps. The trucks run smoothly when turning with the board. The board is best itself.
I recommend trying the board while at the shop when trying to find one you like or feel comfortable on. I recommend this shop for beginners or if you have experience in the skateboarding community.  Sam the owner can help you pick a board and set it up for you. The shop has everything from boards to helmets, knee pads, elbow pads and shoes etc.
Another reason I recommend The Skate Shop is because you know you are getting good quality for your money,  unlike the skateboards at Walmart. Those skateboards are made of low quality and are easy to break. The wheels are usually made of plastic. When my mom told Sam she wanted to get the skateboard from Walmart because it was cheaper, Sam told her they were cheap and you would have to replace them constantly and spend more money.
Overall we made a good choice to go to District Skate Shop.  My mom will go back to get a skateboard for my sister and cousin.